Giant Fossil Palm Frond From Wyoming - Rare!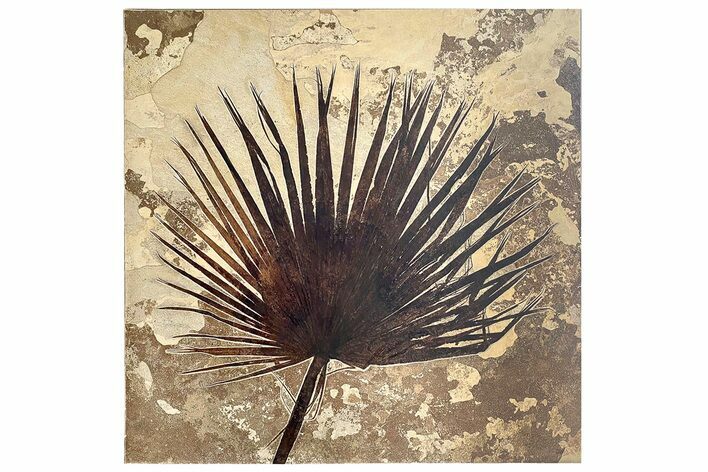 Because of their delicate structure, complete fossil palm fronds are very rare and are thus highly prized for their elegant beauty. While Wyoming's Green River Formation is famous for its plentiful array of well preserved fossil fish, the occasional complete fossil palm frond is unearthed. We are pleased to be able to offer you one of the more rare fossils from the Green River Formation.
At nearly 5 feet wide, this fossil palm is very large, and superbly preserved. It is cleanly presented on a 6 foot by 6 foot slab of shale which has been professionally backed and set up for wall hanging. It makes for a stunning piece of wall decor which is sure to impress fossil aficionados and the everyman alike.
Unlike most large palms, the coloration is natural and only some of the tips of the fronds have been colored where the preservation color was faded due to weathering of the stone. There is also a section near the base of the frond which was partially restored. These touchups are often necessary after something has been buried for nearly 50 million years.
Considering the rarity, size, and overall condition, this piece is very well priced compared to some of the palms that have sold over the past few years in high-end auctions; many fetching 6 figures.
Due to the size and weight of this piece it will be shipped on a pallet or in a crate via freight. Our website can't automatically calculate freight shipping costs so these costs will be calculated and billed after purchase. Please contact us prior to purchase if you need a shipping quote.
50 million years ago, in the Eocene, these fish thrived in Fossil Lake, which was fed by Uinta and Rocky Mountain highlands. The anoxic conditions at the bottom of Fossil Lake slowed bacterial decomposition, prevented scavengers from disturbing corpses, and most interestingly, suffocated creatures that ventured into the oxygen-starved aquatic layer. The result is a miraculous exhibition of Eocene biota in a subtropical aquatic community within sycamore forests teeming with creatures such as freshwater stingrays, dog-sized horses, menacing alligators, early flying bats, and one of the first primates.


LOCATION
Near Kemmerer, Wyoming
FORMATION
Green River Formation
SIZE
Rock: 6 x 6', Frond: ~ 5' wide