Incredible, 30" Fossil Turtle (Apalone) - Green River Formation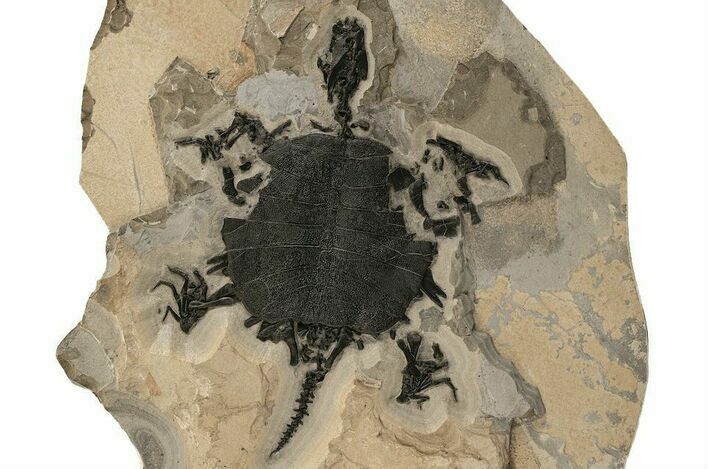 This a huge,
museum quality
, soft-shelled turtle (Apalone heteroglypta) from the Green River Formation of Wyoming. It measures 30 inches long (tip of skull to end of tail) and is nicely centered on a natural, 45 x 38" slab of shale.
One of the aspects that makes this piece so special is that there is almost no restoration. There is
only about 1% restoration
along repaired cracks. None of the fossil has been composited or reposition on the rock, and the matrix is original. This spectacular piece has wall mounting hardware installed, so it is ready to show off.
These turtles are a very rare component of the Fossil Lake fauna. This one was collected from the famous 18 inch layer of the Green River Formation. This layer is known for it's exceptional fossil preservation because it was deposited in a few low oxygen environment.
Nearly all the
fossils
in this layer are still buried under the surface of the rock when found. In the quarries they collected this layer at night using spotlights at low angles. This creates shadows off of the raised portions of the rock which indicate a buried fossil. The rock must then be carefully removed using air-scribes and air abrasives, an extremely time consuming process.
SPECIES
Apalone heteroglypta
LOCATION
Kemmerer, Wyoming
FORMATION
Green River Formation, 18 Inch Layer
SIZE
30" long, 22" wide, Rock 45 x 38"