Very Nice Preserved Pachycephalosaurus Vertebrae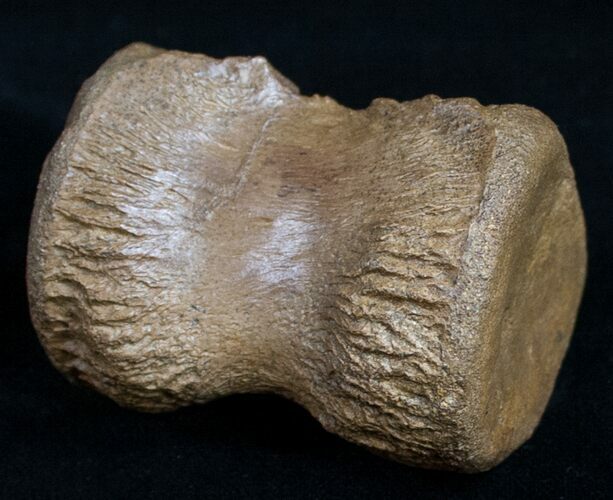 This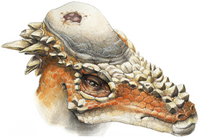 An artists reconstruction of the head of Pachycephalosaurus. By Ryan Steiskal
is a very well preserved vertebrae of the thick skulled, Pachycephalosaurus. It's 2.15" long and has beautiful orange highlights and no surface erosion.
This claw comes from a private dig in the Hell Creek Formation of Montana. The Hell Creek Formation represents a sub-tropical floodplain which would have been similar to coastal, modern-day Louisiana. This area was home to some of the most recognizable dinosaurs in the world including triceratops, hadrosaurs and the king of them all, T-Rex.
Pachycephalosaurus was a bipedal dinosaur that lived during the Late Cretaceous period and probably was about 15 feet in length.
Pachycephalosaurus had a distinctive, large, bony, dome on top of it's skull up to 10 inches thick to cushion it's brain from impacts.
Some paleontologists believe this thick skull may have been used for head-butting, much like rams while others contend it may have been a sexual display.
It was one of the last non-avian dinosaurs before the K-T extinction event, 65 million years ago.
There is only one known species of Pachycephalosaurus, Pachycephalosaurus wyomingensis. It's remains have been found in Montana, South Dakota and Wyoming.
It was either a herbivore or an omnivore with small leaf shaped teeth which would have been very effective at shredding plants.
SPECIES
Pachycephalosaurus
LOCATION
Powder River County, Montana
FORMATION
Hell Creek Formation
SIZE
2.15" long, 1.6" wide