Very Rare Sauropod Metacarpals - Marine Deposits, Morocco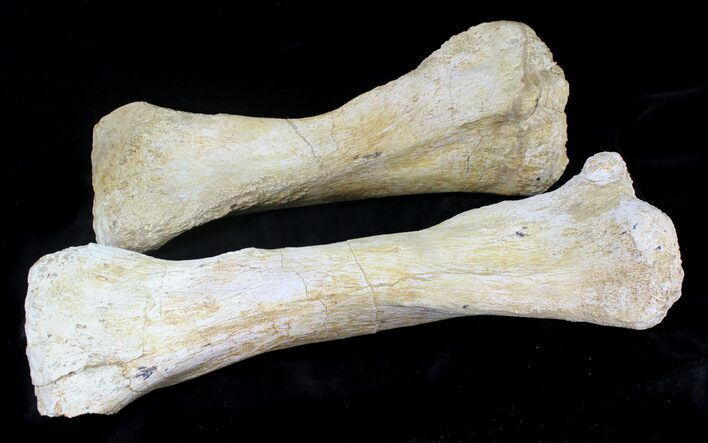 This is an extremely unusual find that had us baffled for a while. These two (presumably) associated bones were part of a lot of vertebrate material we purchased from the phosphate mines near Khouribga, Morocco. The export of phosphate is one of Morocco's biggest exports and huge numbers of marine vertebrate
fossils
(Mosasaur, Plesiosaur, etc) are saved from the rock-crushers by locals and sold as a by-product of the mining operations.
Despite coming from marine deposits, these bones did not match any marine reptiles and were incorrectly labeled when they arrived. They appeared to be a pair of dinosaur metacarpals (toe bones), those of a Sauropod to be precise. Recently we came across the following article documenting,
The first record of a sauropod dinosaur from the Late Cretaceous phosphates of Morocco
. Bingo.
Suffice to say, this is an amazingly rare find. I have not heard of any other dinosaur material recovered from these deposits other than what is referenced in the article.
The bones are in excellent condition, one being 15.2" long and the other 13.4" There were already prepared when we got them, but we did a small amount of gap fill restoration to fill in repaired cracks.
LOCATION
Oulad Abdoun Basin, Khouribga, Morocco
FORMATION
Phosphate Deposits