2.3" Fluorescent Green Fluorite On Quartz - Diana Maria Mine, England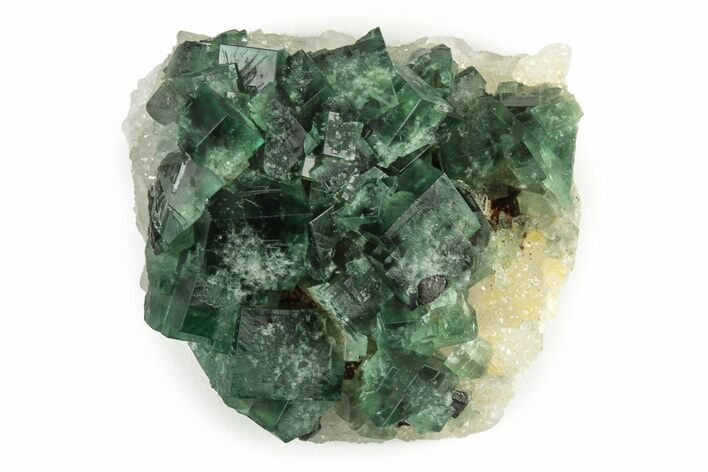 This is a 2.3" wide cluster of cubic fluorite on quartz from the "Naughty Gnome Pocket" at the Diana Maria Mine in England.
Under short and long wave UV, these crystals fluoresce a vibrant purple color.
The Diana Maria mine is a part of the Rogerley quarry in County Durham, England. It began as a surface mining operation in 2017, and graduated into tunneling operations in 2018. Several pockets of breathtaking fluorite specimens have been discovered within the mine, including Graeber Jones, Snowstorm, Green Hill, Emerald Peaks, Heavy Metal, Purple Haze, and many more. Many of these pockets helped to establish new standards for the quality of Rogerley fluorite.
The Rogerley Mine is located in the historic Weardale mining District of Northern England. First discovered in the early 1970's, the Rogerley Mine is the only mine in all of Britain to be worked on a commercial scale in the name of collecting crystallized mineral specimens. Since the summer of 1999, UK Mining Ventures has operated the Rogerley Mine on a seasonal basis, producing many fine, well crystallized specimens of green
fluorite
. The Rogerley is considered some of the finest fluorites in the world and much of it has incredible fluorescence.
SPECIES
Fluorite & Quartz
LOCATION
Naughty Gnome Pocket Diana Maria Mine, Weardale, Durham, England