2.55" Polished Azurite and Malachite Egg - Rubtsovsk Mine, Russia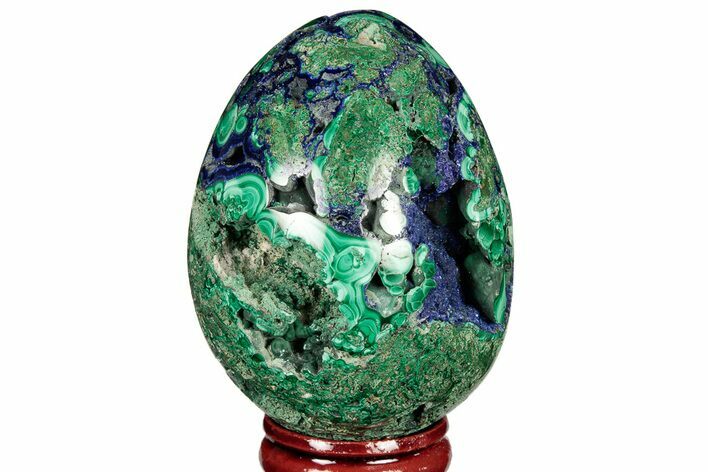 This is a stunning, hand-polished "egg" containing brilliant green malachite and vibrant blue azurite. The lapidary work is very nice and allows for the great, natural botryoidal patterns in the malachite and azurite to be seen. Small pockets of druzy azurite can be found throughout this gorgeous specimen. It makes for a very aesthetic display piece. Comes with the pictured display stand.
This association of azurite and malachite was collected from the Rubtsovsk Mine of Altai Krai, Russia. This volcanogenic sulphide deposit is known for its gorgeous octahedral cuprite crystals, however the site produces a wide variety of other minerals, including native copper, native silver, kaolinite, miersite, marshite and many more.

Azurite and Malachite are known to form in union with each other, for their chemical makeup is very similar. In fact, the presence of more or less water in the location of formation, is enough to determine whether an abundance of malachite over azurite, or vise-versa, will accumulate.

These minerals tend to be found near copper deposits, which accounts for the colors the minerals display.
SPECIES
Azurite & Malachite
LOCATION
Rubtsovsk Mine, Rubtsovsky District, Altai Krai, Russia
SIZE
Tall: 2.55", Wide: 1.9"