3.8" Apophyllite & Druzy Quartz Association - India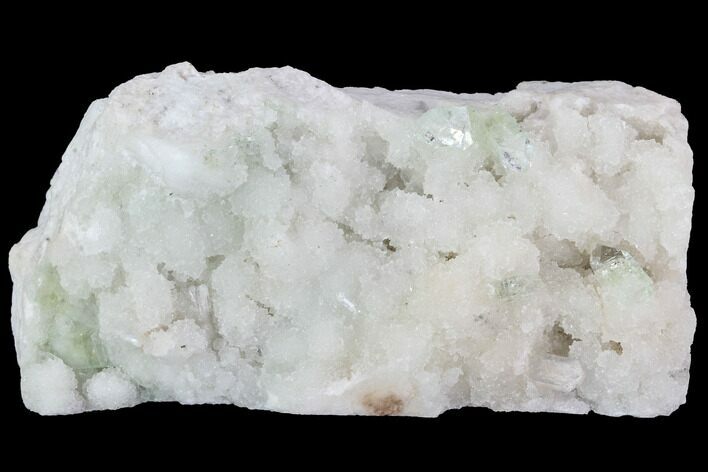 This is a nice specimen that contains green apophyllite crystals on a matrix of chalcedony and druzy quartz. This specimen was collected from India and the base has been cut flat to allow for aesthetic presentation.
Apophyllite while not a zeolite itself is almost always found associated with zeolites in the same pockets. It has two crystal habits, a rectangular prism capped by a steep four sided pyramid or a pseudo-cubic structure. While not a well known mineral to the general public it is popular among mineral collectors due to it's pastel colors and beautiful crystal formations.
Silicon Dioxide, also known as SiO2 or Quartz, is the second most abundant mineral in the Earth's crust. Quartz crystals generally grow in silica-rich, hot watery solutions called hydrothermal environments, at temperatures between 100°C and 450°C, and usually under very high pressure. Quartz veins are formed when open fissures are filled with hot water during the closing stages of mountains forming, and can be hundreds of millions of years old.
SPECIES
Apophyllite & Quartz