4.5" Dazzling Amethyst Crystal "Pineapple" - Reel Mine, North Carolina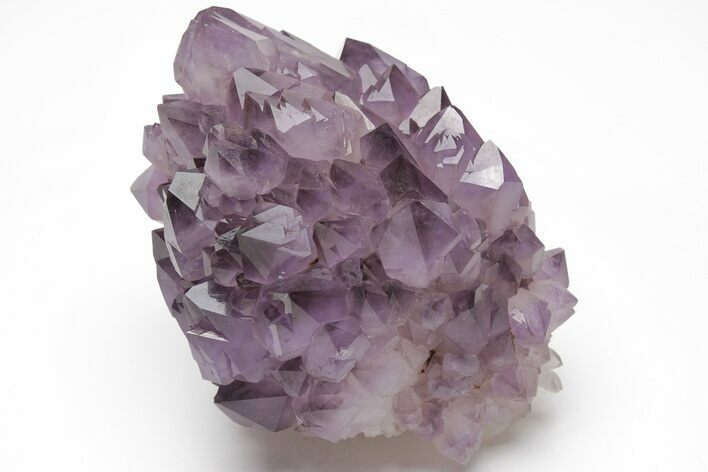 This stunning 4.5" cluster of Amethyst crystals is from the world famous Reel Amethyst Mine in Iron Station, North Carolina. The color on this artichoke shaped piece is phenomenal; creating a gradient from clear quartz, to light purple, and into a deep violet that is sure to knock your socks off. Based on the shape and the gradient of color, this cluster more than likely grew from the roof of the pocket in which it was found. Each individual crystal has sharp, well-defined terminations that are free from damage. This cluster could certainly be on display in a museum, but we think it'd look better in your home.
The point where the cluster was broken from the pocket is at a nice angle so that the piece props itself up in a pleasing display, but we have included a stand so that you may display this exceptional piece however you should choose.
The Reel Amethyst Mine in Iron Station, North Carolina is a staple of the mineral community and has been for quite some time. Since its inception in the 1940's by the Reel family, it has consistently produced high quality amethyst clusters that are ready to go from the ground directly into museums (well maybe after they take a bath). Some suggest that the area has been mined for high quality specimens since the turn of the 20th century, with rumors of mining by Tiffany & Co. in that era. The mine's success is attributed to diligent mining and its prime location within a 100 mile wide amethyst vein that extends from Virginia to Georgia.

Not only is the vein extremely rich with pristine terminations and solid color, but it has produced some truly massive clusters - a few exceeding 150 pounds! The color is probably the biggest draw of Reel Mine amethyst, and it's easy to see why. Extremely dark purples are the product of soil that is very rich in iron. It is this iron content that also produces the thick, deep red clay around the amethyst. This clay is very popular among pottery makers in the area. All in all, Iron Station is a treasure trove for those who like to get their hands dirty.
Amethyst
is a purple variety of quartz (SiO2) and owes its violet color to natural irradiation, iron impurities, and the presence of trace elements, which result in complex crystal lattice substitutions. It's considered a semi-precious gemstone, and just two centuries ago was considered to have a value on par with diamonds, sapphires and rubies. The largest and best known amethyst deposits occur in southern Brazil and Uruguay but many localities around the world produce an amazing variety of amethyst crystals and formations.
SPECIES
Quartz var. Amethyst
LOCATION
Reel Mine, Iron Station, North Carolina