4.75" Vibrant, Iridescent Hematite After Goethite Formation - Georgia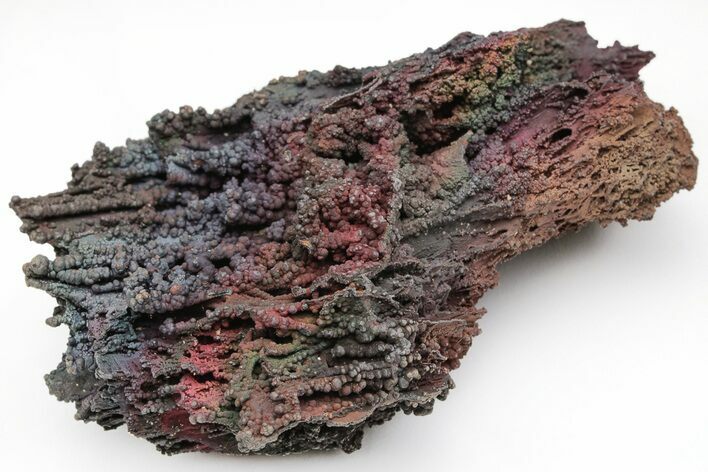 This is an absolutely stunning example of naturally iridescent hematite that has replaced botryoidal goethite. It comes from Graves Mountain in Lincoln County, Georgia, a site well known for its large, metallic rutile crystal clusters. This hematite presents in exceptionally bubbly botryoidal formations and has amazing iridescent properties, giving the specimen an eye-catching flashing effect when rotated.
Comes with an acrylic display stand.
Graves Mountain is a popular mining/rockhounding location in Lincoln County, Georgia. It contains several well known pits in which a variety of minerals can be found. One of the most popular sites, known as the "rutile collecting area", produces superb, lustrous rutile crystals that have attracted collectors from all around the world. The size and quality of the rutile from this area has deemed Graves Mountain as the world's premier location for large rutile crystals.

Additional minerals from this location include iridescent hematite after botryoidal goethite, pyrophyllite, lazulite, blue kyanite, "blue" quartz, pyrite, fuschite, micro-woodhouseite crystals, and many more. Graves Mountain is still mined today and contains sites where collectors can go out and find these fascinating minerals themselves.
Hematite is a fairly common mineral, typically responsible for the red-brown coloration that can be found in other minerals and rocks. The chemical composition of hematite is Fe2O3, occasionally containing small amounts of titanium (variable formula (Fe,Ti)2O3). Much of the time, non-crystalline hematite specimens are the result of a transformation from limonite following loss of water.
LOCATION
Graves Mountain, Lincoln County, Georgia