6.2" Green Cubic Fluorite Cluster With Purple Edges - Okorusu Mine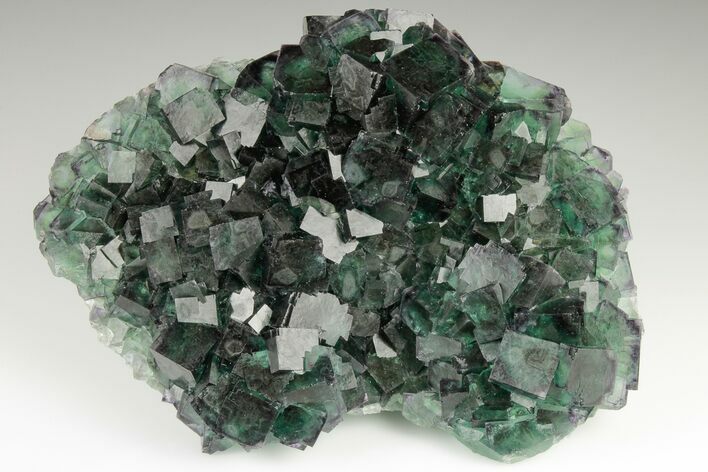 This is a pristine, 6.2" wide cluster of lustrous, cubic fluorite crystals that was collected from the famous Okorusu Mine in the Otjozondjupa region of Namibia. The crystals are an apple-green color and have purple edges, some of which become phantoms within the crystals. Under short-wave and long-wave UV, the specimen exhibits a purple fluorescence.
It comes with an acrylic display stand.
The Okorusu Mine (Okarusu Mine) is located roughly 40 km (25 miles) north of Otjiwarango in Namibia, Africa. It's an open-pit fluorite mine that occurred as an alkaline igneous-carbonatite ring dike complex where the fluorite replaced pegmatitic carbonatite. Mining at this location started around 1920, only to be closed in 1963. Some additional mining took place after 1988, however, much of the fluorite collected was provided to specific dealers to be sold on the international market. The open pit mine officially closed in 2014, therefore the remaining material on the market is old stock. High quality specimens can be difficult to come across as a result of this closure.

The fluorite collected from this mine is famous for exceptional quality and color, ranging from purple to yellow-green, often containing sharp phantoms. These fluorites comes from multiple "pits" in the mine, each of which produces their own unique fluorite specimens. Some of these pits contain a variety of rare earth element-bearing minerals, some of which occur in significant amounts.
LOCATION
Okorusu Mine (Okarusu Mine), Otjiwarongo, Otjozondjupa Region, Namibia