Clearance Lot: 1-4" Orange Bladed Barite Clusters - 36 Pieces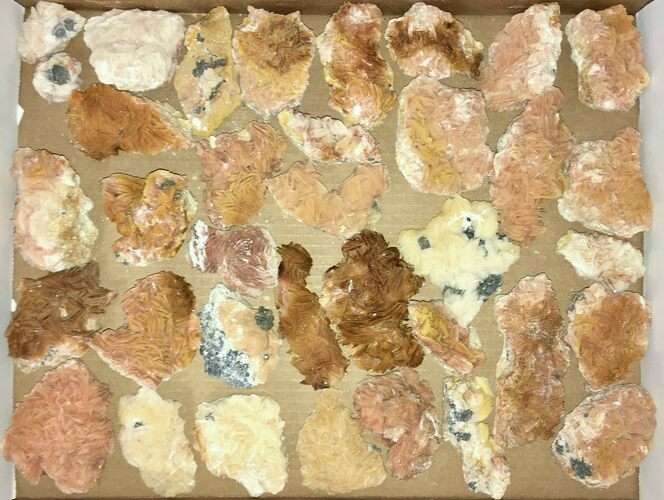 This is a wholesale lot of orange bladed barite crystal clusters from Morocco. Some specimens also contain galena and cerussite. You will receive the
36
pictured specimens which range from 1" to 4" wide.
The Mibladen Mining District in the Midelt Province of Morocco is world famous for its exceptional vanadinite crystals. This location produces absolutely stunning, ruby red vanadinite crystals that are on the larger size of the spectrum. These lead mines were once excavated by a French corporation that has sense ceased their operations. Over a 20 year span in the early 1900's there were 600 active shafts that were mined up to depths of 10 meters.

At the present moment the mine shafts are plumbed for their phenomenal mineral specimens and associations by Morocco miners. The primary mineral acquisitions are vanadinite and associations containing wulfenite, cerussite, barite, and galena. Additional minerals mined in the Mibladen district are Fluorite, Calcite, Aragonite, copper-based minerals (azurite and malachite), quartz, marcasite, and silver.
SPECIES
Barite, Galena & Cerussite