Idaho State Fossil - Hagerman Horse (Equus simplicidens)
In 1988 the Idaho state legislature designated the Hagerman Horse (Equus simplicidens) as the Idaho state fossil.
The Hagerman Horse was discovered in 1928 by a cattle rancher near Hagerman, Idaho, hence the name. It is one of the oldest horses of the Equus genus appearing 3.5 million years ago and is believed to be similar to the modern Grevy's zebra in Africa. The Hagerman Horse shared the grassy plains of what is now Idaho with mastodons, sabertooth cats, beavers, otters, and waterfowl. The average Hagerman Horse was about the same size as a modern zebra or Arabian horse, and likely possessed a stiff mane and fur arrangement similar to that of these modern equines.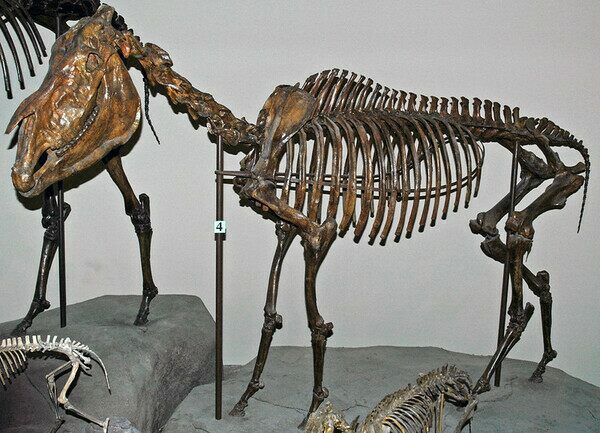 Fossil Hagerman Gorse skeleton from the Pliocene of Idaho at the Carnegie Museum of Natural History. Photo by James St. John - Creative Commons License
Nearly 200 fossil horse skeletons have been recovered from a single quarry at the
Hagerman Fossil Beds National Monument
near Hagerman, Idaho.
RELATED ARTICLES