Nevada State Fossil - Ichthyosaur (Shonisaurus popularis)
In 1977 the Nevada state legislature designated
ichthyosaur fossils
as the Nevada state fossil. In 1989 this designation was amended to specifically be the fossils of Shonisaurus popularis.
In 1928 a large bone-bed of giant ichthyosaur fossils was discovered in the Shoshone Mountains near Berlin, Nevada. Excavations at the site thirty years later would reveal the remains of 37 ichthyosaurs from the Triassic aged Luning Formation. These fossils were later named Shonisaurus, which means "Lizard from the Shoshone Mountains". The area where these fossils were found is now part of the Berlin–Ichthyosaur State Park.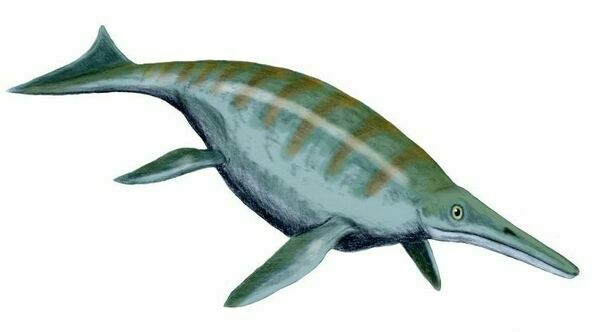 An artists rendering of Shonisaurus.
By Nobu Tamura, Creative Commons License
Ichthyosaurs were marine reptiles that had four flippers, a tail, long skull and sharp teeth. They would have probably looked fairly similar in appearance to a dolphin, with hind flippers. They would have likely been fast swimmers and would have needed to surface to breathe air. Ichthyosaurs are one of the first reptiles known to carry live embryos, not eggs. One spectacular fossil has even been found, showing an
ichthyosaur that died in the middle of giving birth
with the baby emerging headfirst.
Ichthyosaurs first appeared in the fossil record during the Triassic, about 250 million years ago and went extinct early in the Late Cretaceous about 95 million years ago. Their fossils have been found worldwide but those found at Shoshone Mountain are unique due to their massive size. While most types of Ichthyosaurs averaged around 6-13 feet in length, Shonisaurus was a giant. The largest individual found was an astounding 49 feet long and had vertebrae up to a foot across.
In 2004, fossils of another type of giant ichthyosaur known as Shastasaurus found in British Columbia. Based on these fossils Shastasaurus was estimated to have been 69 feet in length, even larger than Shonisaurus.
RELATED ARTICLES