West Virginia State Fossil - Giant Ground Sloth (Megalonyx)
In 2008 the West Virginia state legislature designated the giant ground sloth (Megalonyx jeffersonnii) as the West Virginia state fossil.
Megalonyx jeffersonii is an extinct giant ground sloth that lived in North America from the Late Miocene (10 million years ago) through the Pleistocene (11,000 years ago) It was stood nearly 10 feet tall and weighed up to a ton. Fossils of Megalonyx are known from the eastern two-thirds of the United States and in western North America from central Mexico as far north as Alaska.
It is one of the most unusual North American ice-age mammals. It had thick hair that enabled the species to endure colder temperatures and range farther north than other ground sloths. It's name latin for "Great Claw" from the fact that it had a giant claw.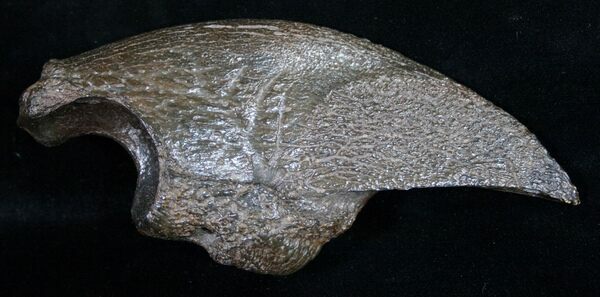 A
fossil claw of the giant ground sloth Megalonyx
found in Florida.
In 1797, President Thomas Jefferson described fossil bones found in a limestone cave in West Virginia, giving them the name Megalonyx. These bones were redescribed two years later by Casper Winstar who identified them as those of a giant ground sloth. He renamed them Megalonyx jeffersonnii in honor of President Jefferson.
In addition to the state fossil, West Virginia has also designated
fossil coral
as the state gem.
RELATED ARTICLES