North Carolina State Fossil - Megalodon Shark Tooth
In 2013 the North Carolina state legislature officially designated the fossil teeth of the prehistoric Megalodon shark as the North Carolina
state fossil
. The Megalodon was the largest shark to ever have existed reaching massive sizes of close to 60 feet in length. Compare it to the Great White Shark that rarely gets above 15 feet in length, and maxes out around 22 feet.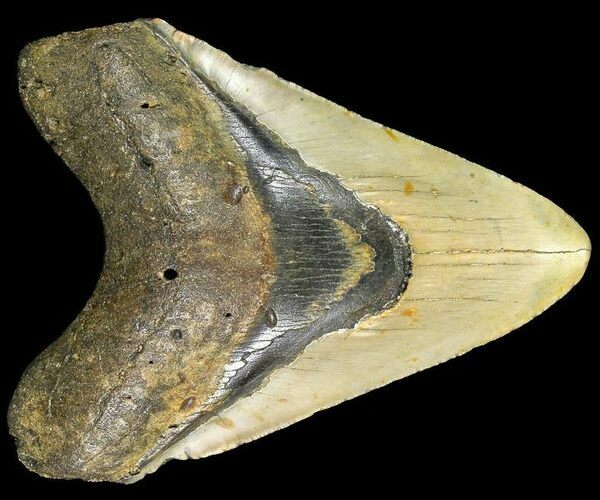 A
5.18" Megalodon shark tooth
found off the coast of North Carolina.
From 23 million years ago to as recent as 2.6 million years ago this massive, ocean predator patrolled the shallow oceans around North Carolina feasting on whales, sea cows and other large marine mammals. It had gigantic teeth measuring up to 7 inches long. Like modern sharks, the Megalodon shed it's teeth frequently as they became worn or damaged from feeding. Because teeth are fairly hard allowing for good fossilization and an adult Megalodon may have shed upwards of a thousand teeth in its lifetime Megalodon teeth are relatively common fossils in North Carolina.
Millions of years ago sea levels were substantially higher meaning much of coastal North Carolina was covered by the Atlantic Ocean. Fossil
Megalodon teeth
are frequently found in rivers, on the beaches and by scuba divers off the North Carolina coast after they erode out of the rocks. In particular after hurricanes that churn up the sediment people will
find Megalodon teeth on the beaches of North Carolina
.
RELATED ARTICLES