Alaska State Fossil - Woolly Mammoth
In 1986 the Alaska state legislature officially designated the Woolly Mammoth (Mammuthus primigenius) as the Alaska state fossil.
The woolly mammoth would have looked like a large, shaggy elephant with long, curved tusks. Weighing up to 6 tons and standing 12 feet tall they roamed much of North America during the Ice Age before totally going
extinct as recently as 3,600 years ago
. Woolly Mammoths are believed to have descended from the Steppe Mammoth about 400,000 years ago in Eastern Asia. They then crossed a land bridge into Alaska around 100,000 years ago before migrating south.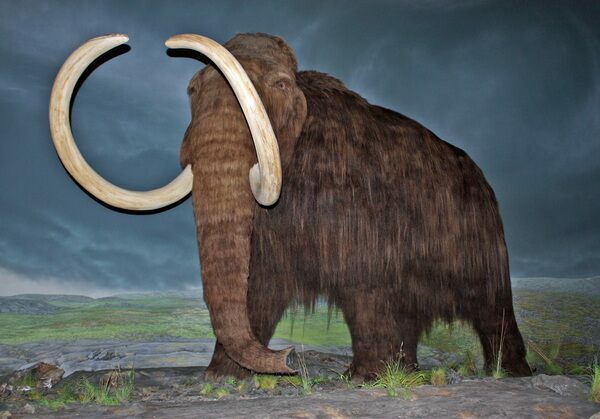 Woolly mammoth restoration at the Royal British Columbia Museum, Victoria, British Columbia. Creative Commons License
Many fossils of woolly mammoths have been found in Alaska, trapped within the permafrost.
Mammoth molars
and tusks are the most frequently found fossils as their hardness allowed them to be more easily preserved. Many woolly mammoth fossils have been found by gold prospectors who melt the permafrost looking for gold.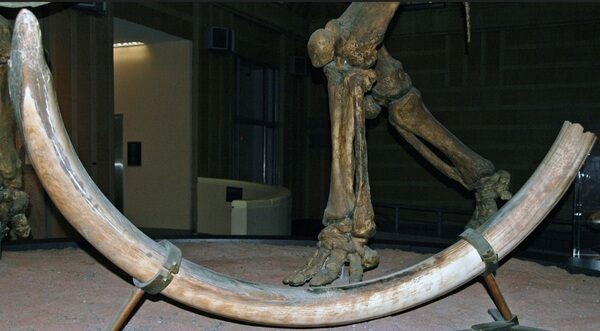 Woolly mammoth tusk from the Pleistocene of Alaska. (public display, Cincinnati Museum of Natural History & Science, Cincinnati, Ohio, USA) Creative Commons License
On the remote Alaskan island of St. Paul, a small population of mammoths managed to survive
until as recently as 5,600 years ago
while they mostly vanished from the mainland about 10,000 years ago. It is believed that the shrinking supply of freshwater on the island due to a changing climate was the main contributor to their die off.
Mammoths are a popular state fossil as Nebraska, South Carolina, Vermont and Washington state have all designated mammoth fossils as their state fossil.
RELATED ARTICLES