What Is The Largest Ammonite Ever Found?
Ammonites
are extinct, marine animals that were close relatives of today's octopuses and squids. They lived inside of a coiled, chambered shell and had tentacles for grasping their prey. The were common animals in earth's oceans up until they went extinct at the end of the Cretaceous period. Some ammonites could reach gigantic sizes, and it's not uncommon for many types to grow over a foot across.
The largest ammonite fossil that has been found was 1.8 meters (5.9 feet) across, but it's living chamber was incomplete. It is of the species Parapuzosia seppenradensis and was found near Westphalia, Germany in 1895. Had the living chamber been complete it is estimated that it would have been between 2.55 m (8.4 ft) and 3.5 m (11 ft) across. The mass of the living ammonite is estimated to have been 1,455 kg (3,208 lbs) This giant ammonite is housed at the Museum of Natural History in Münster and replicas may be found on exhibit at a number of museums around the world, including the
Natural History Museum of Los Angeles County
.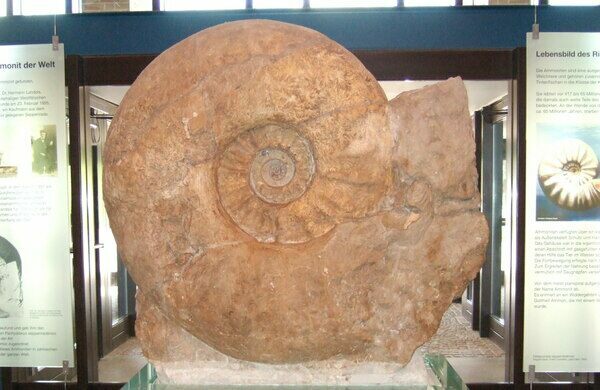 The world's largest ammonite fossil, a 5.9 foot wide specimen of the species Parapuzosia seppenradensis at the Museum of Natural History in Münster. Creative Commons License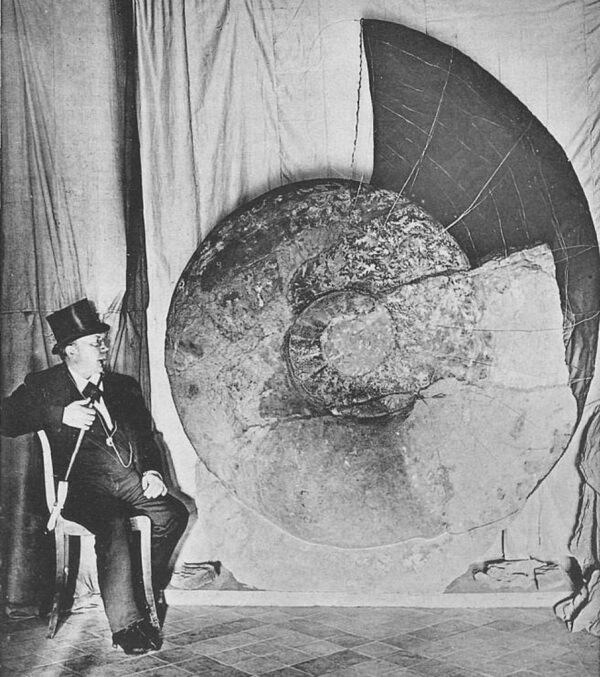 The massive German ammonite found in 1895 showing how the incomplete living chamber would have extended.
The "Fossil Truck Tire"
Another notable, giant ammonite was found in 1947 by geologists mapping the coal seams near Fernie, British Columbia. Coined the "Fossil Truck Tire" it measured 1.4m (5 feet) across and is of the species Titanites occidentalis.
The "Fossil Truck Tire" a 1.4m wide ammonite (Titanites occidentalis) near Fernie BC. Photo from
Red Tree Lodge
Monster New Zealand Ammonites
In 1977 a giant, 1.42m (4 foot 7 inch) ammonite was discovered in a road cut south of Kāwhia Harbour on the Waikato Coast of New Zealand. It took several attempt to excavate the 1200 kg monster, but it is now on display at the Museum of New Zealand Te Papa Tongarewa. The ammonite is of the species
Lytoceras taharoaense
and is Late Jurassic in age, or approximately 140 million years old. Photos can be found
here
and
here
.
Other Giant Ammonite Fossils
There are many other report of massive ammonite fossils, approaching 5 feet though we can't confirm the true size or get photos. We have heard reports of some Cretaceous ammonites from Texas approaching 5 feet in diameter, and a
Journal of Paleontology article
from 1928 references one that was 4 feet 9 inches. I've also seen complete ammonites out of the Pierre Shale of South Dakota that were approaching 5 feet in width.
RELATED ARTICLES