Polished Fire Agate Worry Stones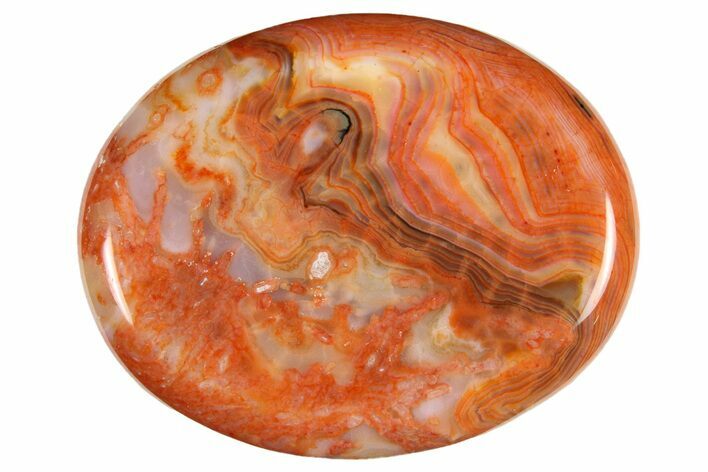 These are 1.9" wide, polished fire agate worry stones. The pictures are representative of the specimen(s) you will receive, so there may be some variation in patterns and coloration. Quantity discounts are available!
Worry stones
are smooth, polished stones, usually in the shape of an oval with a thumb-sized indentation. They are often used by people for relaxation or anxiety relief purposes, the the same way as some people use a fidget spinner. Typically the worry stones are 1 1/2 to 2" across. They are may also be referred to as palm stones, thumb stone, fidget stones, etc.
Agate is a variety of microcrystalline quartz (chalcedony) that displays translucence and in some cases banding. Agate primarily forms when silica-rich fluids fill pockets within rock and/or fossils, resulting in deposition of the silica along the walls of the rock. This process can result in banding patterns as the composition and impurities of the fluids change over time. These banding patterns can either form as flat layers or rounded layers, depending on the surfaces available for deposition.
MINERAL
Polished Fire Agate Worry Stone
SPECIES
Chalcedony var. Agate
SIZE
Approximately 1.9 x 1.55 x .35"