Here at FossilEra we have a huge variety of
fossils
and minerals arriving at our warehouse all of the time. Our goal is to get them catalogued, photographed, and listed on our website as quickly as possible. That means we add new listings to FossilEra.com almost every day, with hundreds of listings being added every week. We have thousands of customers that check the website on a regular basis, so the most popular material tends to sell very quickly.
A frequent request has been for us to provide a way for people to be notified when we add new listings to the website. In response we recently created a customizable email alert system. This allows people to be notified as soon as items they are interested in are listed for sale. It will also help us to know what customers are interested in, so we can go out and find it for them.
You can
create these alerts
from banners on categories around the website, as well as links provided under the main menus.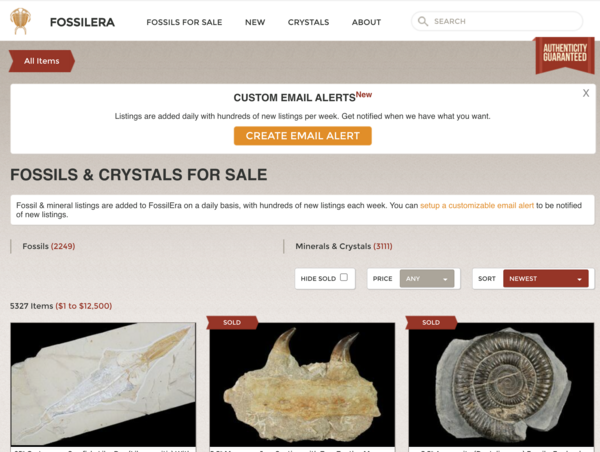 You are able to select from our drop down menu very precise categories of your favorite fossils and minerals. You can add keywords to make your alerts more specific, or add negative keywords to narrow down the search even more. You can even determine the price range in which you are interested.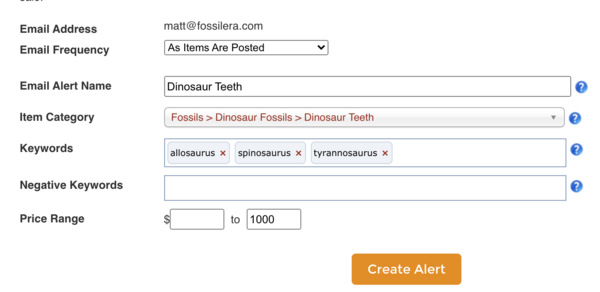 You can create as many alerts as you'd like, customizing each one to your desired frequency and items. The email alert you receive will give you direct links to the items which have been listed (in real time if you choose "As Items Are Posted"). You have complete control over adjusting these alerts to fit your needs at any time. We hope that this will help you gain access to the items you're interested in without having to hope they're available when you get around to looking at the website.