Where To Find Fossils? Fossil Parks & Pay-Per-Dig Quarries
The Penn Dixie Paleontological and Outdoor Education Center in New York is a great place to find Devonian fossils!
Fossils are nice to see in museums and national parks, but have you ever wanted to try your hand finding them yourself? Fossil Parks and Pay per Dig Quarries are a great place to start! These places are located in areas chalk full of
fossils
, and you are virtually guaranteed to find some. This short list of parks and pay quarries below is by no means complete, but it will get you started!
1. Penn Dixie Paleontological and Outdoor Education Center – Hamburg, New York
The
Penn Dixie Center in Hamburg, NY
takes you back in time to the Devonian, around 385 million years ago. During this time, western NY was at the bottom of a shallow sea containing a reef system. This reef has been fossilized in the limestones and mudstones throughout this part of the state. An area at the Penn Dixie Center has the reef exposed at your feet. Simply walk around and pluck fossils from the ground. If you are more adventurous, you can bring tools and dig into the layer to find better preserved fossils that include corals, brachiopods, and trilobites, including the state fossil, the Eldgredgeops (phacops) rana trilobite.
Website
2. Caesar Creek Spillway – Waynesville, Ohio
Sitting in the middle of an ancient Ordovician reef is
Caesar Creek State Park
. It's located in Waynesville, Ohio, almost exactly between Cincinnati and Columbus. A spillway runs through this park which exposes a few football fields worth of Ordovician reef. These Ordovician reef fossils are round 445 million years old and include corals, brachiopods (clam like animals), and
trilobites
. Fossil here are so plentiful, it's hard not to step on them while searching for the perfect specimen! Before you search, you have to get a free fossil permit from the visitors' center. With this permit, they will also give you a nice little "Common Fossils" pamphlet that describes the types of fossils you will find. Also be sure to view the displays of the fossils that you can find at the spillway. No tools are allowed, and you can only to collect fossils that fit in the palm of your hand.
Website
3. Stonerose Interpretive Center and Eocene Fossil Site - Republic, Washington
If Paleozoic seafloors are not your cup of tea, you may want to try some younger fossil beds. The
Stonerose Center
in Republic, WA has 49 million year old Eocene leaves and occasionally insects exposed at an area called the Boothill fossil site. Here, you can use a hammer and chisel to split layers of shale looking for beautiful leaf impressions. You can keep up to 3 fossils per trip. There is an admission fee and the hours vary, so please check their website before visiting.
Website
4. Warfield Quarries' Fossil Safari - Kemmerer, Wyoming
Within the eocene-age, Green River Formation, just outside Fossil Butte National Park, near Kemmerer, WY, is the
Warfield Quarries' Fossil Safari
. Warfield Quarries is a private quarry adjacent to the national park that offers the amateur fossil hunter the experience of a lifetime. This pay-to-dig quarry doesn't require a reservation and they are open 7 days a week, year round, excluding certain holidays. There is an entrance fee, however, Warfield provides you with tools, maps, and guidance to ensure you enjoy your fossil collecting experience. At this location you are allowed to collect and keep any of the fish that you find. They do ask that the more rare fossils be left at the quarry. This includes: stingrays, reptiles, turtles, and mammals. You are required to split the rock yourself, but you often find all the fossils you could want within a couple of hours. If you want a particularly exhilarating experience, Warfield Quarries offers a VIP guided, night dig!
Website
5. American Fossil Quarry – Kemmerer, Wyoming
This place is for the more serious fossil hunter. If you've collected your share of fossil leaves and would like to explore more Eocene fossils, try the
American Fossil Quarry
in Kemmerer WY. This quarry exposes the famous Green River formation. Here, as you split shale, you'll mainly find fish, but sometimes insects and plants can be found as well. On rare occasions, fossil reptiles and mammals are found, though this is not guaranteed. There is a fee to dig here and you must reserve a spot ahead of time. A nice bonus of American Fossil, is that they have rock saws at the site to trim your finds, which makes the fossils significantly easier to get home!
Website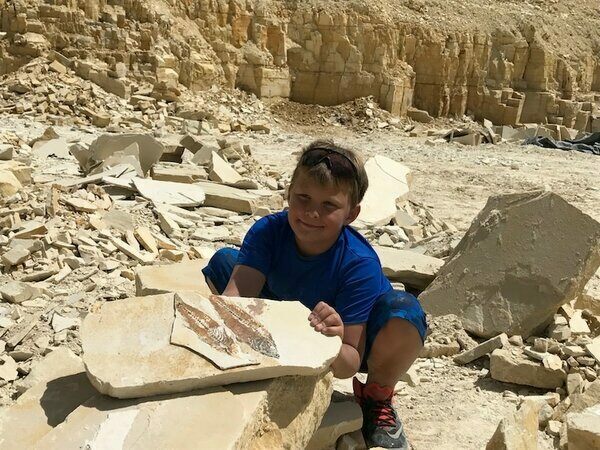 6. U-Dig Fossils Trilobite Quarry - Delta, Utah
If you have ever wanted to find a complete trilobite, this is the place to go!
U-Dig Fossils
is a pay quarry situated in the desert west of Delta, UT. The quarry is in the heart of the famous Wheeler shale which has many types of beautifully preserved Cambrian trilobites, including the famous Elrathia trilobites. On average, visitors find between 10 and 20 trilobites each day. Just by simply splitting the shale! Their website has a full calendar of times and dates the site is open. You can even book a dig ahead of time for your convenience.
Trip Report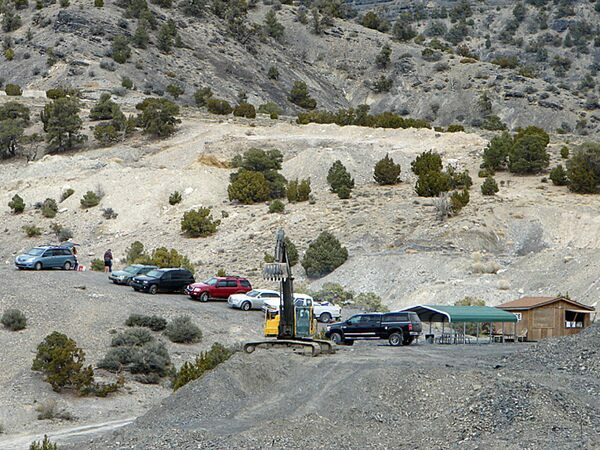 7. Shark Tooth Hill - Ernst Quarries – Bakersfield, California
Fossil shark teeth are always fun to find, and this place is loaded with them! Located in Bakersfield, CA, this desert area was once on the bottom of the ancient Temblor sea. During the Miocene, around 15 to 16 million years ago, this sea was teaming with sharks, whales, and other sea life. Although megalodon teeth are not common here, many other sharks were, including fierce looking Carcharias planus teeth. Along with a fee, you need to reserve a spot ahead of time.
Ernst Quarries
provides you with the tools to find the shark teeth, which mainly consists of digging and sifting.
Website
8. Fossil and Prairie Park Preserve - Iowa
Located in Rockford, IA, this fossil preserve has 365 million year old Devonian reef exposures from a shallow sea. Fossils include brachiopods, corals, and cephalopods. Here, the fossils are simply lying on the ground and fresh rains constantly uncover new fossils. No tools are allowed, you only need your hands to pick them up!
Website
9. Paleoadventures Dinosaur Digs – South Dakota
What about dinosaurs? Yes, there are indeed places where you can hunt for dinosaurs, and keep the bones! One such place is located near Belle Fourche, SD, which sits on the late Cretaceous Hell Creek Formation. Here,
Paleoadventures
takes you back 65 million years to prime dinosaur country where you can carefully excavate the formation, searching for dinosaur fossils. Bones and teeth from famous dinosaurs such as Edmontosaurus, Triceratops, and even T-rex are commonly found! There is a fee to dig, and the digging season books up fast, so you have to reserve a spot well ahead of time. But if you've ever wanted to find dinosaur fossils, this pay per dig outfitter is great!
Website
RELATED ARTICLES