This Specimen has been sold.
1 1/2 Inch Theropod (Raptor) Claw - Tegana Formation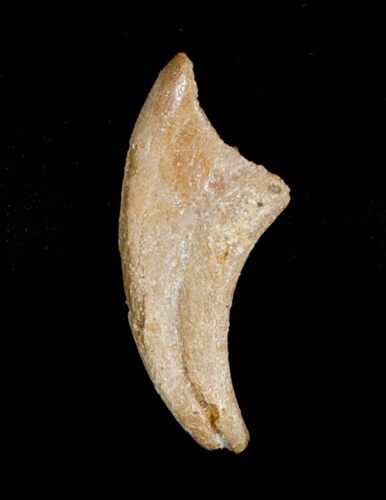 This is a nicely preserved claw bone from a small Theropod dinosaur (raptor). It's 1.52 and nearly complete missing just the tip with no restoration or repair.

It comes from the Upper Cretaceous aged Tegana Formation near Taouz, Morocco. The Tegana Formation is famous for producing a very diverse Upper Cretaceous dinosaur fauna including monsters such as Spinosaurus and Carcharodontosaurus.

Dinosaur claws are MUCH more rare in the fossil record than teeth, because not only did dinosaurs have far fewer claws than teeth, but dinosaurs shed worn teeth continuously throughout their lifetimes.
SPECIES
Small Theropod (Raptor)
LOCATION
Taouz, Kem Kem Basin, Morocco
FORMATION
Tegana Formation