1.17" Bevnosovia (Basal Hadrosauroid) Tooth - Uzbekistan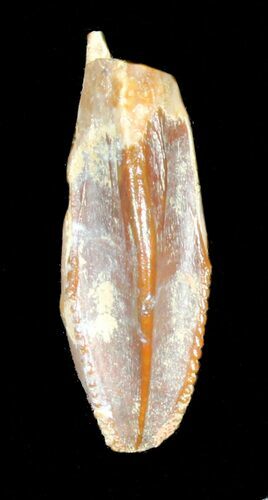 This is a very unusual and well preserved tooth of the basal Hadrosauroid dinosaur, Bevnosovia transoxiana from the Middle Cretaceous Bissekty Formation of Uzbekistan. This is the only tooth of this dinosaur I've ever seen offered for sale and it a a beauty.
Levnesovia is a genus of hadrosauroid dinosaur recently described in 2009 (abstract linked below). Hadrosauroids were the descendants of the iguanodonts that were common in the late Jurassic/earliest Cretaceous,‭ ‬and the precursors of the hadrosaurids that were common during the final ten-fifteen million years of the Cretaceous.
A New Basal Hadrosauroid Dinosaur from the Late Cretaceous of Uzbekistan
SPECIES
Levnosovia transoxiana
LOCATION
Dzarakuduk, Uzbekistan
FORMATION
Bissekty Formation