1.41" Unidentified Raptor/Theropod Tooth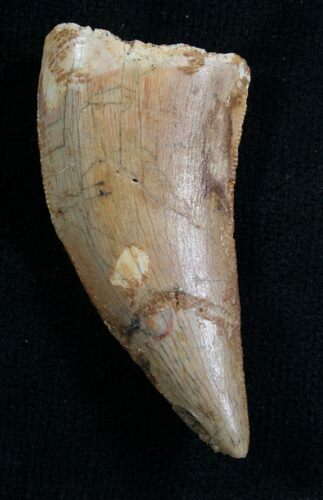 This is a unidentified raptor/theropod tooth from the Late Cretaceous (100 million years) Tegana Formation of Morocco. Unfortunately most of the dinosaurs from the Tegana Formation remain undescribed, so it's impossible to accurately put any species or genus label on it. One reason for this is that despite the huge numbers of teeth that are found, very little articulated bone material has been found.

This is a tooth from a medium sized theropod (meat-eating) dinosaur. It's substantially larger than the other raptor that are commonly available. The shape also appears substantially different than the teeth from the larger described theropod from this formation Carcharodontosaurus. There are a couple of repaired cracks in the tooth.
SPECIES
Unidentified Raptor
LOCATION
Taouz, Kem Kem Basin, Morocco
FORMATION
Tegana Formation