1.46" Utaspis Trilobite - Marjum Formation, Utah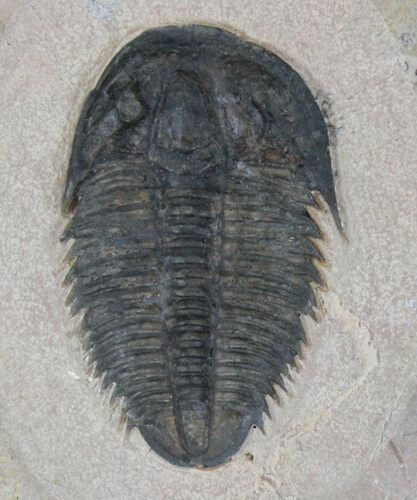 This is an middle Cambrian trilobite from the Marjum Formation, Utaspis marjumensis. While molts are not difficult to find maybe only 1-2% of them have cheeks and many of these are poorly preserved. You can dig for days without finding a good complete specimen.

This one is around average size at 1.46" in length and has both cheeks tightly attached. This one was personally collected and prepared from a private lease in the House Range. There is no restoration on the specimen. It was found in a layer that had been exposed to water, so the shell was "rotten" in some areas and was touched up (restored) after preparation. That is the reason, why the price of this Utaspis is significantly less expensive than you might expect given the scarcity of complete specimens.


SPECIES
Utaspis marjumensis
AGE
Middle Cambrian

LOCATION
House Range, Utah
FORMATION
Marjum Formation
SIZE
1.46" long, matrix 3.3x3.2