13.1" Triceratops Caudal Vertebra on Metal Stand - Wyoming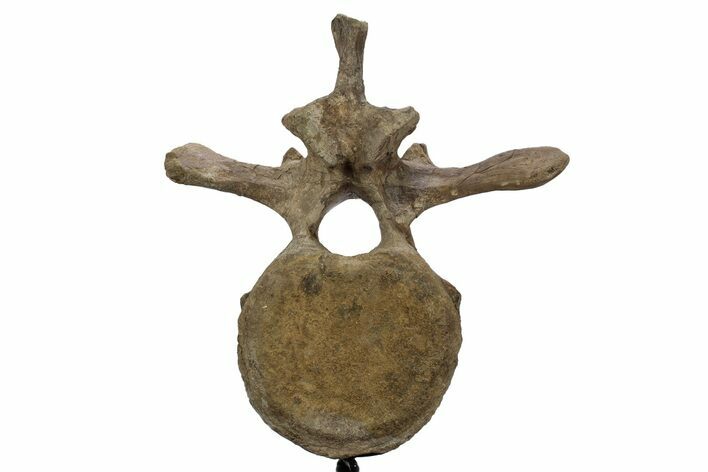 This is a beastly caudal (tail) vertebra of Triceratops horridus, collected from the Lance (Creek) Formation of Wyoming. It is in excellent condition, complete with transverse processes, spinous process, prezygapophyses/postzygapophyses, and an intact neural canal that has had the rock removed. The preservation of the processes is amazing considering these features are fairly fragile and can become detached and lost over the years. It comes with a custom metal display stand for aesthetic vertical presentation of this incredible vertebra.
This vertebra measures 13.1" tall by 12.5" wide, with a 3.9" thick centrum. On the stand, the entire specimen stands 16" tall.
There is some repair and restoration to each transverse process, with the most restoration through the right process. There are repaired cracks through each pedicle with spots of gap fill restoration where the bone crumbled away. Both prezygapophyses and postzygapophyses are intact with spots of gap fill restoration and/or crack repair. There is some minor breakage at the superior end of the spinous process, with a couple repaired cracks through the middle. Restoration only makes up approximately 5% of the entire specimen which is quite incredible.
Triceratops
is one of the most recognized and intriguing of the North American ceratopsid dinosaurs. They stomped around the Late Cretaceous (around 68-66 mya), brandishing their three pronged and bony frilled skull, chewing on fibrous plants. They struggled against large predators, stood their ground, and tried not to be devoured by the ferocious Tyrannosaurus rex.
The head on a Triceratops may have been an intimidating show rather than a stabbing, defensive trident and imposing shield for inter-species jousting. Researchers have given close scrutiny to the holes, or fenestrae, of other ceratopsid crests. In the past, the holes within the shield were used to confirm separate species.
Individual Triceratops are estimated to have reached up to 9 meters (29.5 ft) in length, 3 meters (9.8 ft) in height, and weighed up to 26,000 lbs. The largest known skull is estimated to have been 2.5 m (8.2 ft) in length and would have extended almost a third of the length of the mature individual. The pointed horns were approximately 1 meter (3ft) long. With its sturdy build and powerful legs, Triceratops could have ripped open the predator that wanted this herbivore for dinner.
One of the most abundant of the large Cretaceous fauna, Triceratops plucked low growth with its beak-tipped jaws. Triceratops teeth were arranged in groups called batteries, of 36 to 40 tooth columns, in each side of each jaw with 3 to 5 stacked teeth per column, depending on the individual's size. This produces a range of 432 to 800 teeth, of which only a fraction were in use at any given time (due to tooth replacement). The great size and quantity of teeth suggests that they ate large volumes of fibrous plants. These were possibly palms, cycads, and ferns. (Wikipedia).
Triceratops was designated as the
state fossil of South Dakota in 1988
.
The Lance Formation of Wyoming, which dates back to the Late Cretaceous period between 66 and 69 million years ago, is home to a wide variety of both dinosaur fossils and assorted small vertebrates. During the Cretaceous, this midwestern formation would have been comprised of streams connected to the large Western Interior Seaway which split continental North America in half down the midwest. As a result of the subtropical climate and frequent rainfall, life flourished both on land and in the sea. The frequent deposition of sediment caused by the stream environment is what allows the Lance Formation to be such a fertile fossil site.

Perhaps the most famous Lance resident would be the Tyrannosaurus rex, the largest North American carnivore to ever live. However, other smaller theropods also roamed the American midwest in this subtropical coastal stream system. These included the beaked Ornithomimus, a lanky running theropod with a build similar to a modern ostrich, as well as several small predatory troodonts, such as Paronychodon and Pectinodon.

Herbivorous dinosaurs also took advantage of the abundance offered by their community. Armored ankylosaurs dwelt in herds, their safety assured by their numbers, their heavy bone plating protecting most of their bodies, including their eyelids, and huge bone clubs on the ends of their tails providing them with powerful offensive capabilities. Ceratopsians like the famous Triceratops also formed protective herds, gaurding their necks with frills and horns. Their smaller relatives, the dome-headed pachycephalosaurs, were also well represented in the area. Hadrosaurs, duck-billed titans with huge batteries of plant-grinding teeth in elongated snouts, are also well known from the region.

In addition to dinosaurs, a wide variety of fishes, amphibians, lizards, snakes, turtles, champsosaurs, crocodilians, and pterosaurs have been found in the formation.
SPECIES
Triceratops horridus
FORMATION
Lance (Creek) Formation
SIZE
13.1 x 12.5", 16" tall on stand