13.7" Fossil Iguanodont Dinosaur (Mantellisaurus?) Sacrum - England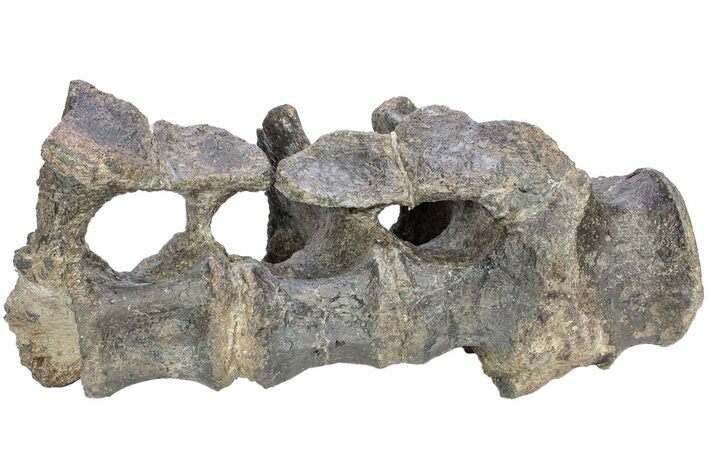 This incredible offering is the sacrum of an iguanodontid, possibly of the species Mantellisaurus cf. atherfieldensis. This species of dinosaur was known to have roamed Belgium, England, Spain, and Germany. It was collected from the Isle of Wight in England and measures 13.7" long. British dinosaur material is extremely hard to come by and this is a fantastic collector piece.
It was collected in multiple pieces, so naturally there are some repaired cracks through the specimen. Most of the repaired cracks are through the thinnest portions of bone, with restoration in these spots being fairly minimal. Rock has been left within the exposed neural canal for structural integrity of the specimen.
It sits upright nicely on its own, however it will be accompanied by an acrylic-metal display stand to assist with preferred presentation.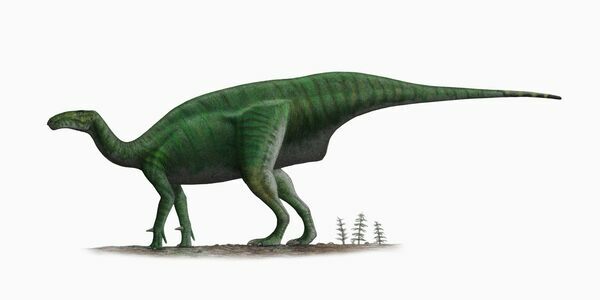 Mantellisaurus is a genus of dinosaur formerly known as Iguanodon atherfieldensis that lived in the Barremian and early Aptian ages of the Early Cretaceous Period of Europe. Mantellisaurus was a lightly constructed iguanodont. Compared to Iguanodon bernissartensis, Mantellisaurus was smaller, estimated at 0.75 tons in weight.
SPECIES
Mantellisaurus cf. atherfieldensis?
LOCATION
Atherfield, Isle of Wight, England
FORMATION
Wessex Formation - Wealden Group