18.6" Rare Male Fossil Stingray (Heliobatis) - Wyoming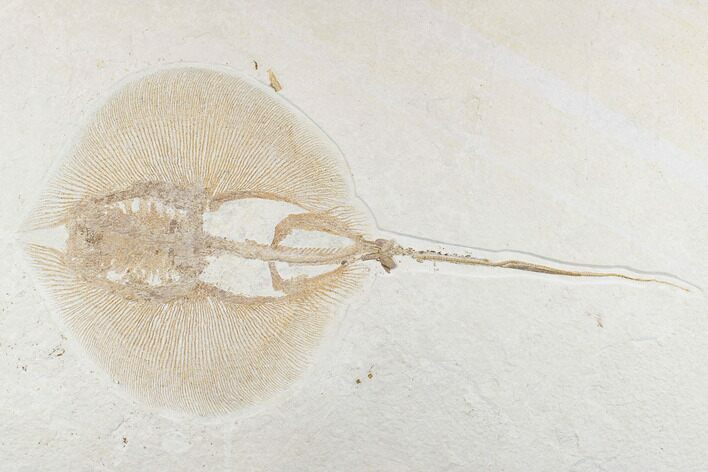 This is a beautiful 18.6" long fossil stingray (Heliobatis radians) from the Green River Formation in Wyoming. These rays are one of the more rare fossils from the Green River Formation and are highly coveted by collectors for their beauty. This ray is a male as evidenced by the presence of claspers at the base of its tail. Also some of its tiny teeth are visible near the front of the head, a feature often not seen in these fossil rays.
There are several repaired cracks running through the rock and restoration along these crack repairs, as well as on the lower-right hand side of its body. Because the shale it was found on is quite thin, it has been backed with wood for stability. It comes with a display stand or we can add wall mounting hardware upon request.
Heliobatis
is an extinct genus of freshwater ray primarily known from the Green River Formation in Wyoming. The teeth are triangular and shaped for feeding on small fish, crustaceans, and mollusks.
SPECIES
Heliobatis radians
FORMATION
Green River Formation
SIZE
18.6" long on 21.6 x 13.7" rock