20" Huge Sauropod (Barosaurus) Vertebra - Bone Cabin Quarry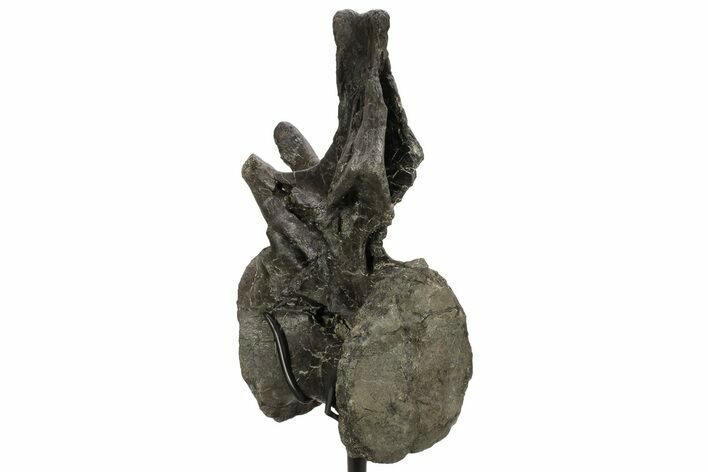 This is a very rare, 20" tall, sauropod dinosaur (Barosaurus) caudal vertebra, collected from the famous Bone Cabin Quarry in Wyoming. This vertebra is well prepared and comes with a rotating, custom metal stand for display. It is in excellent condition and features an unusual, unexplained hole through the centrum. There are several sauropods that come out of the Bone Cabin Quarry which include Diplodocus, Galeamopus, Brontosaurus, Apatosaurus, Camarasaurus, Barosaurus, and Brachiosaurus.
Barosaurus was an enormous sauropod closely related to the much more common Diplodocus but had a longer neck and shorter tail. Adult Barosaurus grew up to lengths over 90 feet and weighed over 20 tons. Many of the bones are nearly indestinguishable between these two genus but the ID was made based on the presence of associated material in the quarry.
Portions of this vertebra have undergone natural compression over the years within the ground. There are repaired cracks through the centrum, pedicles, and processes. Gap fill restoration can be found between repaired cracks where the bone crumbled away, however restoration is quite minimal in comparison to the amount of bone that preserved.
Measurements:
Vertebra - 20 x 12 x 7.1"
Height on stand - 25.5" tall
Weight (including stand) - just under 42 lbs
The
Bone Cabin Quarry
has historical significance because it was discovered in 1897 and excavated by the American Museum of Natural History from 1898 through 1905. It lies near the famous Como Bluff and got it's name from a nearby sheepherder's cabin built entirely out of fossil dinosaur bones. This quarry now lies on private land, where it has continued to be excavated.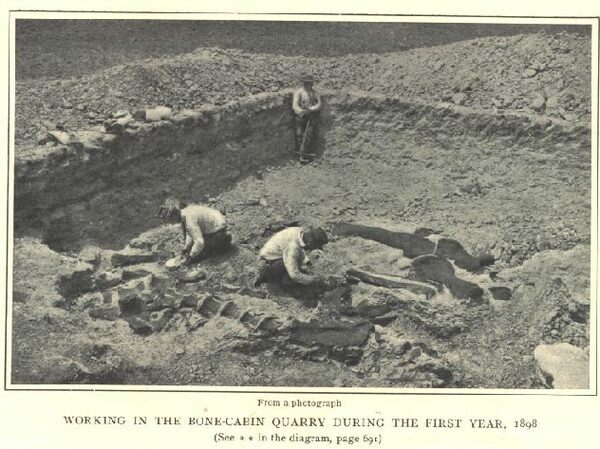 LOCATION
Bone Cabin Quarry, Wyoming
FORMATION
Morrison Formation
SIZE
20" tall, 12" long, 7.1" wide, 25.5" tall on stand