This Specimen has been sold.
.22" Partial Raptor Tooth - Montana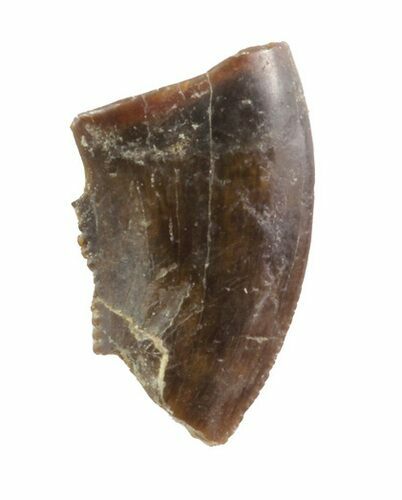 This is a .22" tooth from a raptor of the genus Saurornitholestes that was collected from the Two Medicine Formation in Pondera County, Montana. It has nice enamel and a very small amount of serration preservation, though the tip is broken. It comes in an acrylic bubble display case.

Smaller theropods like Velociraptor typically did not use their teeth for killing and so their teeth are much smaller in size in relation to their skulls when compared to larger therapods that used their teeth as the primary killing tool.

Theropods from the Two Medicine Formation were quite abundant, especially the relatively small species. The largest of these theropods were the tyrannosaurids Daspletosaurus torosus and Gorgosaurus libratus. Where dromaeosaurids are concerned, Bambiraptor feinbergorum, Dromaeosaurus albertensis and Saurornitholestes langstoni species have been identified from this location.


SPECIES
Genus Saurornitholestes
LOCATION
Pondera County, Montana
FORMATION
Two Medicine Formation
SIZE
.22" long (straightline)