30" Tall Fossil Fish and Palm Mural - Green River Formation, Wyoming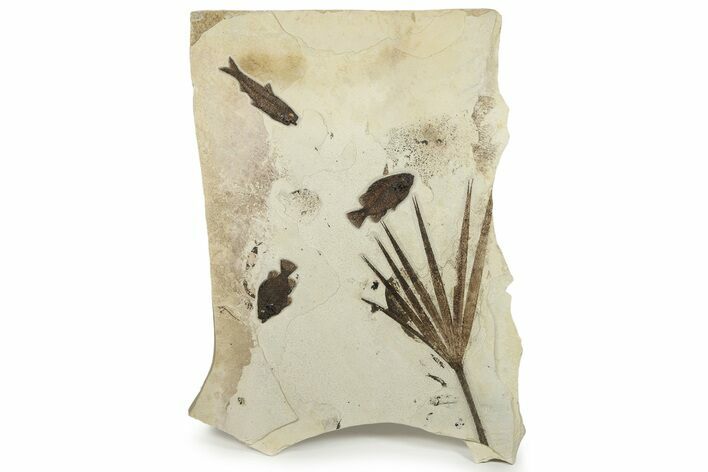 This 30" tall fossil fish and palm mural is like having a prehistoric aquarium with plants and aquatic life on display together! With this and murals similar to it, the fish fossils are extracted individually, then carefully inlaid into the shale to create a natural aesthetic.
A unique combination of natural preservation and skilled craftsmanship, this mural brings the Eocene to life. It features a nicely preserved fossil palm that measures 18" long, and three fossil fish that would have been found swimming in the waters nearby. The fish include two of the species Cockerellites (Priscacara) liops that measure 4.6" and 5.2" wide and a large, 6.2" wide Knightia eocaena. This unique combination shows off both flora and fauna from the Green River Formation. It was collected from the Lindgren Quarry in Kemmerer, Wyoming. It has been backed with wood for stability and has a french cleat wall hanger installed for vertical display. Upon request, we can readjust the hanger for horizontal display.
Due to the size and weight of this piece it will be shipped on a pallet or in a crate via freight. Our website can't automatically calculate freight shipping costs so these costs will be calculated and billed after purchase. Please contact us prior to purchase if you need a shipping quote.
50 million years ago, in the Eocene, these fish thrived in Fossil Lake, which was fed by Uinta and Rocky Mountain highlands. The anoxic conditions at the bottom of Fossil Lake slowed bacterial decomposition, prevented scavengers from disturbing corpses, and most interestingly, suffocated creatures that ventured into the oxygen-starved aquatic layer. The result is a miraculous exhibition of Eocene biota in a subtropical aquatic community within sycamore forests teeming with creatures such as freshwater stingrays, dog-sized horses, menacing alligators, early flying bats, and one of the first primates.


SPECIES
Knightia eocaena, Cockerellites (Priscacara) liops & Sabalites sp.
LOCATION
Lindgren Quarry, Kemmerer, Wyoming
FORMATION
Green River Formation
SIZE
Rock: 30 x 22.7", Cockerellites: 4.6" & 5.2", Palm: 18" long (straightline), Weight: 37 lbs