32" Giant Permian Amphibian (Sclerocephalus) - Pfalz, Germany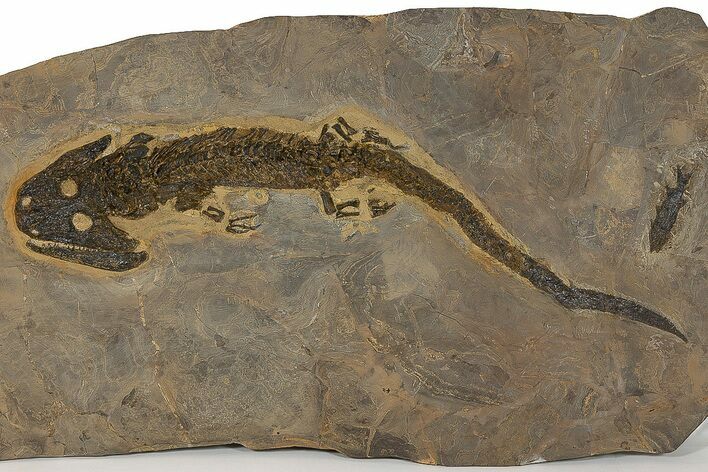 Due to the size and weight of this piece it will be shipped on a pallet or in a crate via freight. Our website can't automatically calculate freight shipping costs so these costs will be calculated and billed after purchase. Please contact us prior to purchase if you need a shipping quote.
This is an incredible fossil amphibian of the genus Sclerocephalus and is by far the largest we've ever offered. It measures 32.5" long (straightline) and features exceptionally well preserved legs, body, and head. It's naturally associated with a 4.5" wide fish. The shale these fossils are preserved on measures 39.8 x 21.7" and has been backed with fiberglass for stability. A thin sealant has been applied to the carbonized fossil to protect it.
Upon request we can install wall mounting hardware to create an aesthetic wall display.
The left side of the mandible is naturally disarticulated and sticks out to the side of the upper skull. There are several repaired cracks through the specimen with spots of gap fill restoration where the rock wasn't recoverable.
The fossil beds of Pfalz in southwestern Germany have yielded many spectacular Permian fossils for many years, but this location has been closed to collecting for decades - making such specimens increasingly rare on the market. The Rotliegendes series of mud and siltstones is renowned for its abundant fish and amphibian fossils and this stunning assemblage is a perfect representation of aquatic life that thrived in the area 285 million years ago.
SPECIES
Sclerocephalus sp.
SIZE
Amphibian: 32.5", Rock: 39.8 x 21.7"