33" Ceratopsian (Triceratops?) Squamosal Bone - Hell Creek Formation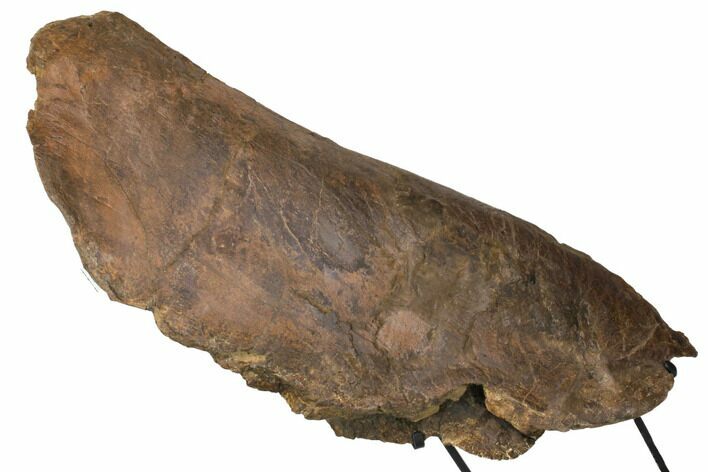 Due to the size and weight of this piece it will be shipped on a pallet or in a crate via freight. Our website can't automatically calculate freight shipping costs so these costs will be calculated and billed after purchase. Please contact us prior to purchase if you need a shipping quote.
This is a spectacular, 32.8" Squamosal (back of skull) bone of a Ceratopsian dinosaur from the Hell Creek Formation of Montana. The squamosal bone makes up the posterior-lateral side of the skull and is the proximal edge of the frill.
Two Hell Creek experts who have looked at it thought the surface texture was different than most Triceratops they'd seen and suggested it might be Torosaurus or another ceratopsian. To me the shape appears to match Triceratops more than the squamosals of other Ceratopsians known from the Hell Creek Formation.
It is incredibly well preserved with just a few crack repairs and minor gap fill restoration. Great surface preservation with almost no weathering. On its stand, this is a very striking display.
Triceratops
is one of the most recognized and intriguing of the North American ceratopsid dinosaurs. They stomped around the Late Cretaceous (around 68-66 mya), brandishing their three pronged and bony frilled skull, chewing on fibrous plants. They struggled against large predators, stood their ground, and tried not to be devoured by the ferocious Tyrannosaurus rex.
The head on a Triceratops may have been an intimidating show rather than a stabbing, defensive trident and imposing shield for inter-species jousting. Researchers have given close scrutiny to the holes, or fenestrae, of other ceratopsid crests. In the past, the holes within the shield were used to confirm separate species.
Individual Triceratops are estimated to have reached up to 9 meters (29.5 ft) in length, 3 meters (9.8 ft) in height, and weighed up to 26,000 lbs. The largest known skull is estimated to have been 2.5 m (8.2 ft) in length and would have extended almost a third of the length of the mature individual. The pointed horns were approximately 1 meter (3ft) long. With its sturdy build and powerful legs, Triceratops could have ripped open the predator that wanted this herbivore for dinner.
One of the most abundant of the large Cretaceous fauna, Triceratops plucked low growth with its beak-tipped jaws. Triceratops teeth were arranged in groups called batteries, of 36 to 40 tooth columns, in each side of each jaw with 3 to 5 stacked teeth per column, depending on the individual's size. This produces a range of 432 to 800 teeth, of which only a fraction were in use at any given time (due to tooth replacement). The great size and quantity of teeth suggests that they ate large volumes of fibrous plants. These were possibly palms, cycads, and ferns. (Wikipedia).
Triceratops was designated as the
state fossil of South Dakota in 1988
.
Because of its age and sedimentary composition, the Hell Creek Formation has become one of the most paleontologically studied areas in the world. 158 genera of animals and 64 genera of plants are known from the formation and new discoveries are made frequently. In addition to Tyrannosaurs, Ceratopsids, and Hadrosaurs, the formation has yielded remains of amphibians, reptiles, lizards, snakes and turtles, fish and sharks, avian and non-avian dinosaurs, and mammals. The Hell Creek Formation gives the most complete understanding of the environment just before the Cretaceous-Paleogene extinction.
LOCATION
Slope County, North Dakota
FORMATION
Hell Creek Formation