32" Wide Green River Fossil Fish "Mural" With Huge Priscacara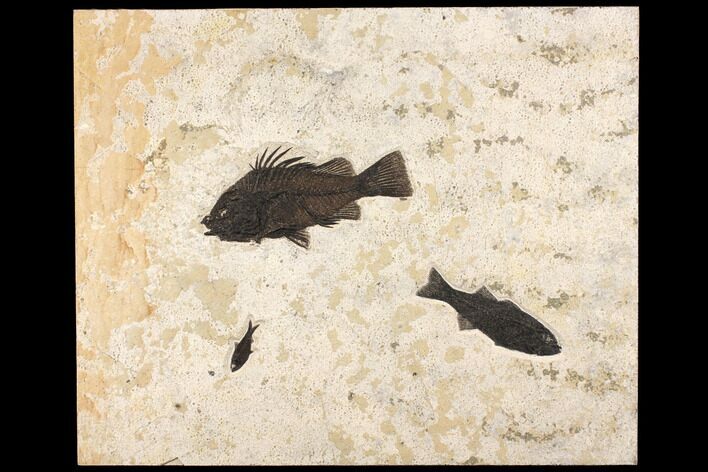 This is a spectacular fossil fish "mural" from the Green River Formation of Wyoming. The entire piece measures 32 x 26" and features a huge, 12" long Priscacara serrata along with a 8.8" Mioplosus labracoides and a 3.5" Knightia eocaena. These fossils were collected from the 18 inch layer at the Lindgren Quarry near Kemmerer, Wyoming.
The massive Priscacara is remarkably detailed and is in it's natural location on the shale. The Mioplosus and Knightia were found separately and have been inlaid into the rock to create an aesthetic display. This is the case with many of the large, multiple fish pieces you see from the Green River Formation. The entire piece has been backed with wood for stability and so that it can easily be hung on a wall. The piece weighs about 50 lbs and will ship in a wooden crate.
It comes from the coveted 18 inch layer of the Green River Formation which produces darker and more detailed fish than the majority on the market. The rock from this layer is much harder and more durable. This layer is typically collected at night using low-angle light to see the bump in the rock that the backbone creates. They then cut these fish out and take them to a lab where the fish, which may be up to an inch under the surface of the rock, are meticulously extracted under microscope with hand tools.


SPECIES
Priscacara serrata, Mioplosus labracoides & Knightia eocaena
LOCATION
Kemmerer, Wyoming
FORMATION
Green River Formation - 18 Inch Layer
SIZE
32 x 26", Fish 12", 8.8" & 3.5", about 50 lbs