Pinterest Contest Prize: 4.2 Inch Polished Ammonite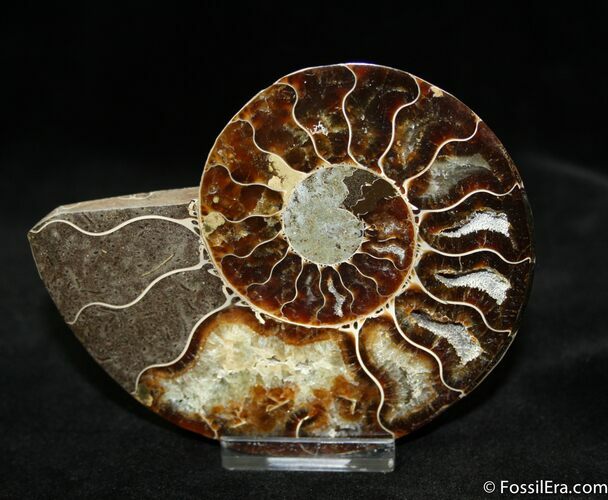 Win This Ammonite!
To help celebrate #FossilFriday we are running a series of fossil giveaways on our various social media accounts (Facebook, Twitter, Google+ and Pinterest). This is the prize for today's Twitter contest that will run for 24 hours from noon (PST) on Friday.
To enter the contest all you have to do is go to our
Pinterest
Board, find the contest pin and repin it. After the contests ends in 24 hours we will randomly select a winner from those that repinned it and contact them within Pinterest. You can leave a comment on the original pin if you have any questions.
Be sure to follow us on Pinterest if you haven't yet, as we will be regularly running contests, special offers as well as providing updates on new listings.
Other #FossilFriday Contests
We're running similar contests on
Facebook
,
Google+
and
Twitter
concurrently so check them out also.
Now About The Ammonite
Here is a 110 million year old ammonite fossil from Madagascar which has been sliced in half and polished. The chambers of the ammonite have been agatized and some of them are filled with pockets of calcite crystals.
Ammonites
were predatory mollusks that resembled a squid with a shell. These cephalopods had eyes, tentacles, and spiral shells. They are more closely related to a living octopus, though the shells resemble that of a nautilus. Ammonites appeared in the fossil record about 240 million years ago and they barely survived several major extinction events. The last lineages disappeared 65 million years ago at the end of the Cretaceous.
LOCATION
Ambatolafia, Mahajanga Province, Madagascar