4.8" Devonian Ammonite (Anetoceras) - Morocco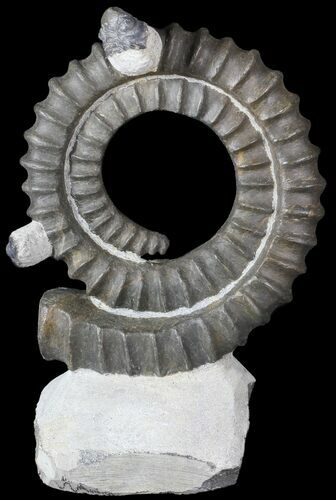 Please note: While we typically ship out material within 2 business days there will be a delay of approximately 2-3 days before we can ship this specimen. It's part of a lot of material currently in transit back to our primary shipping warehouse.
This is a 4.8" tall specimen of the Early Devonian ammonite Anetoceras quarried in the Anti-Atlas Region of Morocco. The ammonite has been painstakingly prepared from the hard limestone matrix that it was found in creating a nice free-standing display. There are a couple heads of phacopid trilobites also exposed in the limestone that have been left in place.
Ammonites were predatory mollusks that resembled a squid with a shell. These cephalopods had eyes, tentacles, and spiral shells. They are more closely related to a living octopus, though the shells resemble that of a nautilus.
AGE
Early Devonian

LOCATION
Anti-Atlas Region, Morocco