43" Fossil Fish "Mural" With Giant Phareodus - Kemmerer, Wyoming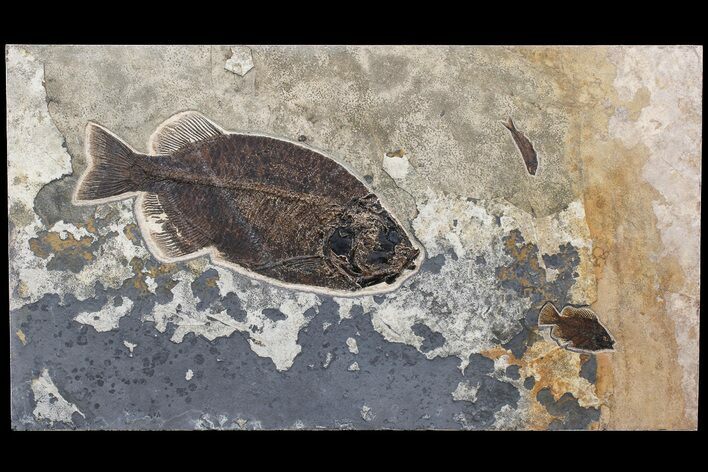 Due to the size and weight of this piece it will be shipped on a pallet or in a crate via freight. Our website can't automatically calculate freight shipping costs so these costs will be calculated and billed after purchase. Please contact us prior to purchase if you need a shipping quote.
This 43" fossil fish "Mural" with a giant Phareodus would make a stunning centerpiece in any room. It's like having a window that looks under the water and into the past right in your home! This piece and other murals like it are made by individually extracting the fish fossils and carefully inlaying them to a larger piece of shale to create a natural aesthetic. A massive 22" Phareodus shares the shale with its potential prey, a 5" long Cockerellites liops and a 4" long Knightia eocaena. These fish came out of the 18 inch layer at the Lindgren Quarry near Kemmerer, Wyoming.
A combination of natural preservation and skilled craftsmanship brings the prehistoric waters to life in a piece sure to be a conversation starter! Backed with wood for stability and having a wall hanger already installed, it's ready to be hung on the wall or mantle right away.
Phareodus had a mouthful of sharp pointy teeth making it a voracious lake predator. In fact the name Phareodus actually means "to have tooth". Spines from other fish such as Mioplosus and Priscacara have frequently been found preserved in their stomachs.
50 million years ago, in the Eocene, these fish thrived in Fossil Lake, which was fed by Uinta and Rocky Mountain highlands. The anoxic conditions at the bottom of Fossil Lake slowed bacterial decomposition, prevented scavengers from disturbing corpses, and most interestingly, suffocated creatures that ventured into the oxygen-starved aquatic layer. The result is a miraculous exhibition of Eocene biota in a subtropical aquatic community within sycamore forests teeming with creatures such as freshwater stingrays, dog-sized horses, menacing alligators, early flying bats, and one of the first primates.


SPECIES
Phareodus, Cockerellites & Knightia
LOCATION
Lindgren Quarry, Kemmerer, WY
FORMATION
Green River Formation
SIZE
43 x 25", 100 lbs, Phareodus 22" long