6 Inch Trimerus From The Rochester Shale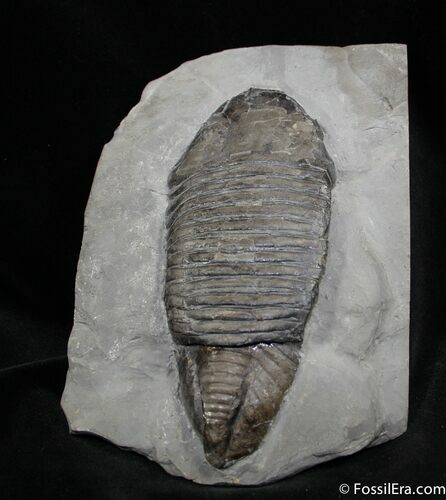 This is a very large 6 inch long Trimerus delphinocephalus trilobite from the famous Rochester Shale of New York. This trilobite is characterized by it's long/slender look and inflated appearance. These are a hard trilobite to find, particularly ones as large as this example.

If this was a perfect example it would fetch big bucks, alas it's not. The tail on this specimen has been COMPOSITED onto the plate, that is it was originally found on a difference piece of matrix and remounted on the plate. There is no way of knowing for sure if it came from the same trilobite or not but the sizes match up. There are a few small areas of restoration along the axis were presumably a few flakes of shell were missing. Regardless this is great specimen for the price given the inflation, size and color.

SPECIES
Trimerus delphinocephalus
AGE
Lower Silurian

LOCATION
Middleport, New York
FORMATION
Rochester Shale