7.3" Partial Fossil Crocodilian (Dyrosaurus) Rostrum - Morocco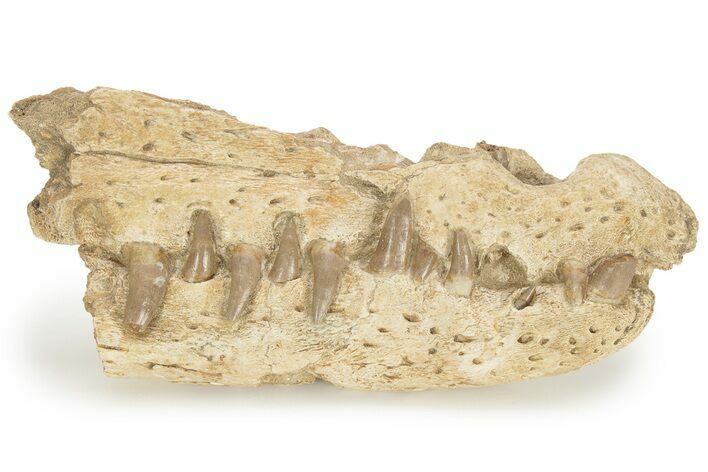 This is a 7.3" long section of the upper and lower jaws of an Early Eocene crocodilian (Dyrosaurus maghribensis). The specimen was collected from the phosphate deposits in the Oulad Abdoun Basin of Morocco.
There are a few cracks through this skull section that have been stabilized with glue. Many of these cracks required additional gap fill restoration. Most of the teeth exhibit signs of repair and some may have been placed in the jaw for a more complete presentation. There are several tooth roots preserved within their pockets and a couple unerupted teeth, though there are twenty crowns still very visible.
This specimen is accompanied by an acrylic display stand.
Dyrosaurus is a genus of extinct crocodylomorph that lived during the early Eocene in what is now North Africa. It grew up to 19 feet (6 meters) long and had jaws filled with many,‭ ‬thin recurved teeth which would have been optimal for catching fish. There are two described species Dyrosaurus phosphaticus‭ and Dyrosaurus maghribensis of which the later is found exclusively in the phosphate deposits of the Oulad Abdoun Basin in Morocco.


It comes from the massive phosphate deposits in the
Oulad Abdoun Basin
near Khouribga, Morocco. These deposits are mined for phosphate, one of Morocco's biggest exports. The fossils are collected as a byproduct of the mining operations, saving them from certain destruction by the rock crusher.
SPECIES
Dyrosaurus maghribensis
AGE
Early Eocene

LOCATION
Oulad Abdoun Basin, Morocco
FORMATION
Phosphate Deposits
SIZE
7.3" long, 3.1" wide