7 Articulated Ichthyosaurus (Stenopterygius) Vertebra - Germany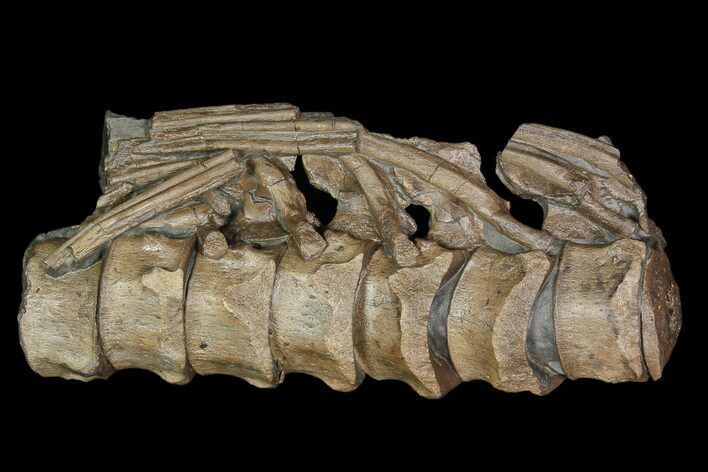 This is a beautifully prepared string of seven articulated Ichthyosaur (Stenopterygius sp.) vertebrae. The entire string measures 5.7" long and all of the vertebrae are very three dimensional, with partial processes attached. It was collected from the Upper Lias - Lower Jurassic, Posidonia Shale of South Western, Germany. A very aesthetic display piece, comes with an acrylic display stand.
Ichthyosaurs
Artists reconstruction of an Ichthyosaur. Image Credit:
Nobu Tamura
(http://spinops.blogspot.com/)
("Fish Lizard") was a giant marine reptile which thrived from much of the Mesozoic era. They evolved in the mid Triassic from a group of unidentified land reptiles which transitioned back into the water. This line evolved in parallel fashion to the ancestors of today's dolphins and whales, something known as convergent evolution.
SPECIES
Stenopterygius sp.
LOCATION
Holzmaden, Nr. Stuttgart, Bavaria, Germany
FORMATION
Posidonia Shale