8.2" Fossil Ammonite (Dactylioceras) Cluster - Sandsend, England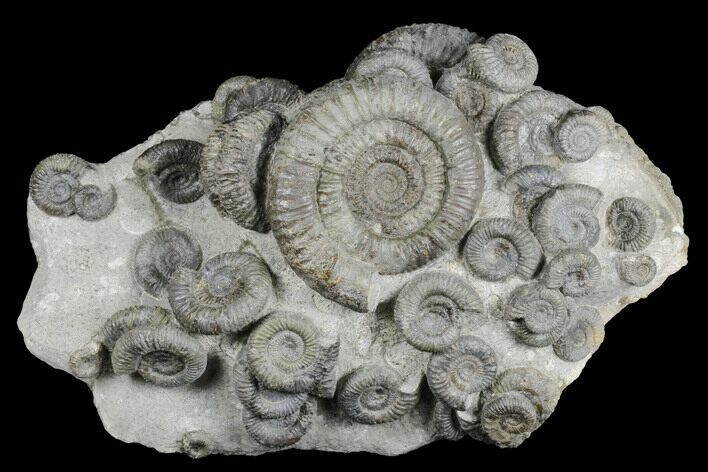 This is an impressive, 8.2" wide cluster of Dactylioceras ammonites from the Sandsend, England. You don't typically get these ammonites in dense clusters like this. Countless hours of preparation work went into exposing the individual ammonites from the hard rock with mechanical tools.
There are over 30 ammonites present of both Dactylioceras toxophorum and Dactylioceras gracile. Most of the ammonites are around 1" wide, but the largest is 2.8"
This piece comes out of the collection of the late Jeff Mulroy, a renown collector and preparitor of Yorkshire fossils.
Comes with a display stand.
Ammonites
were predatory mollusks that resembled a squid with a shell. These cephalopods had eyes, tentacles, and spiral shells. They are more closely related to a living octopus, though the shells resemble that of a nautilus. True ammonites appeared in the fossil record about 240 million years ago. The last lineages disappeared 65 million years ago at the end of the Cretaceous.
SPECIES
Dactylioceras toxophorum & Dactylioceras gracile
LOCATION
Sandsend, Whitby, North Yorkshire, England
SIZE
Cluster 8.2 x 5.5 x 2.6", Largest ammonite 2.8"