8.6" Wide Iridescent Ammonite (Deschaesites) Cluster - Russia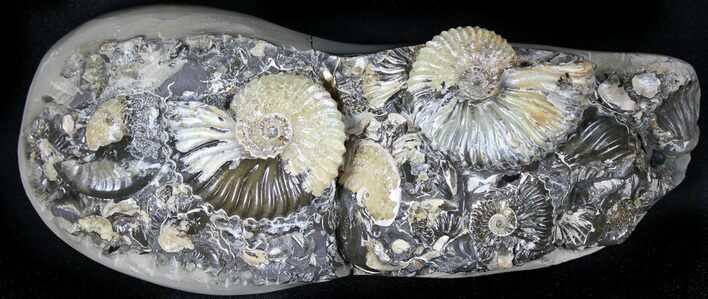 This is a beautiful cluster of Deshayesites ammonites rom the Lower Cretaceous deposits of the Volga River in Russia. It has been beautifully prepared from the hard concretion from which it was found. The ammonites have a wonderful iridescent shell preservation. The largest ammonites in the cluster are 2.2" wide and the entire piece measures 8.6x3.7"

The back of the rock has been sawed flat, so that the piece displays well laying down or on the included display stand.
AGE
Lower Cretaceous

LOCATION
Volga river, Ulyanovsk region, Russia
SIZE
Largest ammonite 2.2", Rock 8.6x3.7"