8' 9" Mounted Dryosaurus Skeleton From Colorado - Largest Complete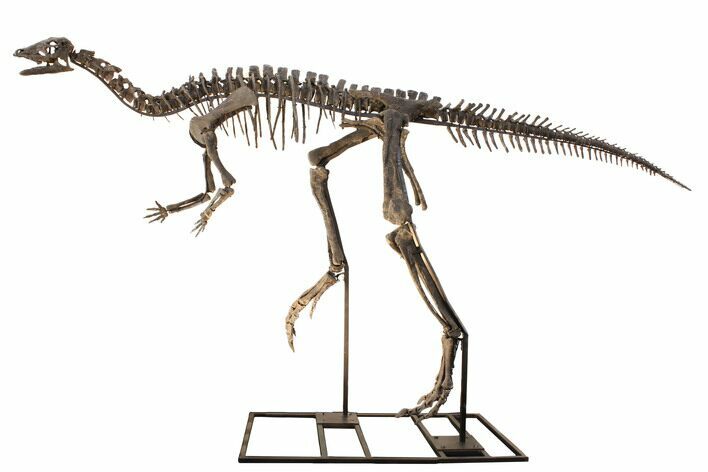 At 8' 9" long and standing 5' tall this is the largest, complete Dryosaurus ever found and certainly the most elegantly mounted. It is about 20-30% larger than most of the known Dryosaur skeletons.
It took our partner
Dinosaurs Of America
three years to collect, prepare and mount this fantastic specimen. It comes from their private quarry east of Dinosaur, Colorado that has yielded several complete skeletons including a 27 foot Allosaurus which is also available. This "small" dinosaur skeleton makes for a spectacular public exhibit.
Dryosaurus
was a primitive iguanodont that lived during the Late Jurassic. It had a horny beak and cheek teeth, and like other ornithopods, was a herbivore. Its fossils have been found in the Upper Morrison Formation of Wyoming and Colorado.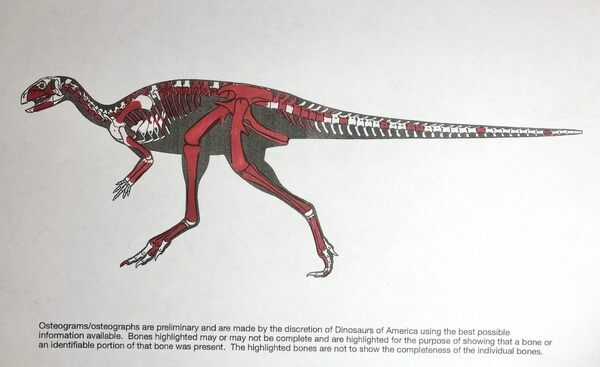 A bone map showing the original bones in red can be seen above. It is about 70% complete with most of the replica bones being tail vertebrae.
The specimen has been mounted in a running pose using a "clutch mount", so all of the individual bones can be easily removed. The specimen has been fully 3D scanned and those scans are included with the purchase. Also included:
Shipping and setup of the specimen
Full documentation including copies of land deeds
Access to the excavation site for photos and scientific note taking (sedimentology, stratigraphy), etc.
3D scan and reproduction rights.
Please contact us for additional information. In person viewing of the skeleton at the Dinosaur of America's preparation lab can be arranged for serious buyers.
LOCATION
"Sutton Quarry", Skull Creek, Dinosaur, Colorado
FORMATION
Brushy Basin Member, Morrison Formation
SIZE
8' 9" (2.7 meters) long, 5' (1.5 meters) tall