9.25" Dryosaurus Fibula - Bone Cabin Quarry, Wyoming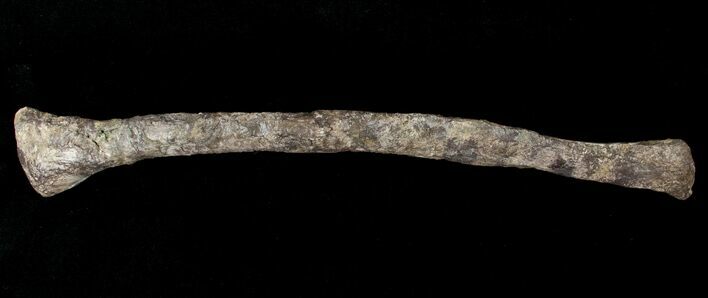 This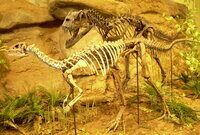 Dryosaurus and Ceratosaurus skeletons.
is a very unusual dinosaur fossil, a fibula from Dryosaurus altus. I've never seen any Dryosaurus material for sale anywhere else. This fibula was collected at the historic Bone Cabin Quarry in Wyoming. The fossil has some minor crack repairs and some restoration to fill the cracks.
Dryosaurus
was a primitive iguanodont that lived during the Late Jurassic. It had a horny beak and cheek teeth and, like other ornithopods, was a herbivore. It probably reached about 15 feet in length and weighed about 200 lbs. It's fossils have been found in the Upper Morrison Formation of Wyoming and Colorado.
The
Bone Cabin Quarry
has historical significance because it was discovered in 1897 and excavated by the American Museum of Natural History from 1898 through 1905. It lies near the famous Como Bluff and got it's name from a nearby sheepherder's cabin built entirely out of fossil dinosaur bones. This quarry now lies on private land, where it has continued to be excavated.
LOCATION
Bone Cabin Quarry, Wyoming
FORMATION
Morrison Formation