Amazing Black Ammonite With Crystals - 7 Inches Wide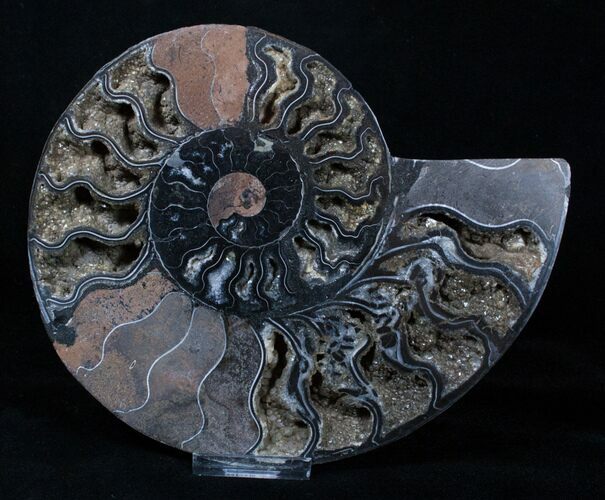 This is a truly gorgeous ammonite fossil in a rare dark black color highlighted by sparkling crystal lined chambers. Photos don't due the beauty of this specimen justice. It's 7 inches in diameter and one half of the ammonite is included in this offering. There is an epoxy putty which has been used to stabilize the back side of the fossil, but is not visible on the display side.

These Cleoniceras ammonites are Early Cretaceous (Albian Stage) in age, approximately 110 million years old and are mined in the Mahajanga Province of Madagascar.

The black coloration is very unusual for Cleoniceras ammonites from Madagascar, which typically come in lighter shades of brown. This is one of a handful I was able to acquire recently from a new location and I have not seen them offered elsewhere. The difference in coloration is due to changes to the rock formation within the earth after the ammonite was fossilized. I've read that the cause is likely an infusion of the mineral Manganese.

There are also a couple of pairs of these unusual black ammonites currently for sale too.

LOCATION
Ambatolafia, Mahajanga Province, Madagascar