Anhanguera Pterosaur Tooth .71 Inches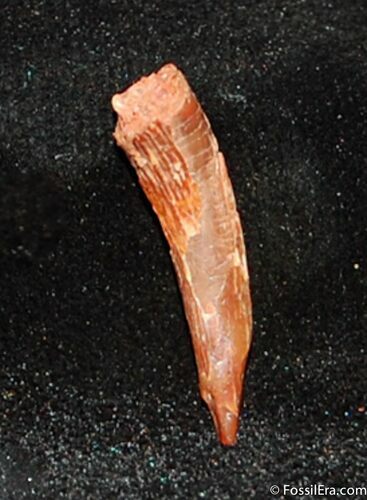 Here is a distinctive tooth of Anhanguera sp. from the Cretaceous Tegana Formation of Morocco. This tooth is somewhat curved and has wonderful, brick red color. The enamel of the tooth is intact and very well preserved. And there is almost little wear to the tip of the tooth. This is a very fine, specimen of a tooth from an extinct Pterosaur.
Anhanguera was not a "true" dinosaur, but rather a pterosaur (flying reptile). It was one of the larger pterosaurs of the Cretaceous period with a maximum wing span of about 15 feet. It primarily ate fish, which I used it's sharp needle like teeth to hold onto.
LOCATION
Taouz, Kem Kem Basin, Morocco
FORMATION
Tegana Formation