Beautiful 2.45" Mosasaur (Prognathodon Curri?) Tooth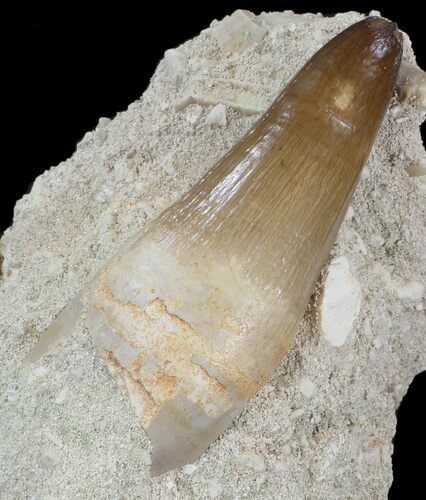 This is a nice, large tooth of the a Mosasaur (Prognathodon) from the Upper Cretaceous phosphate deposits in the Oulad Abdoun Basin of Morocco. These teeth are collected as a by product of the massive phosphate mining operations in the area.
While this tooth is certainly Prognathodon it has slightly different morphology than the typical Prognathodon teeth I receive, with a much more rounded tip. I believe this may be a specimen of the rarer Prognathodon curri.
Tooth morphology of mosasaurid species from the Maastrichtian Phosphates of Morocco.
SPECIES
Prognathodon curri? (Mosasaur)
LOCATION
Oulad Abdoun Basin, Morocco
FORMATION
Phosphate Deposits