Scottish Ammonite (Brasila) Cluster, 20 Specimens - Isle of Skye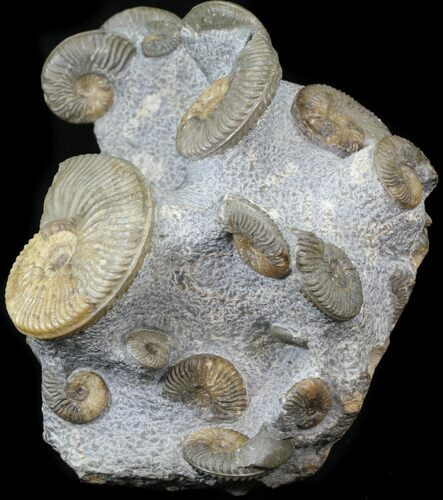 This is a very nice cluster of Scottish ammonite (Brasila aff. Subcornuta) fossils from the Isle of Skye. They are Middle Jurassic in age, Aalenian Stage or approximately 170-174 million years old. There are over 20 ammonites present that have been beautifully prepared from the hard limestone. The detail and coloration on the specimens is exceptionally nice.

The largest ammonite on the piece is 2.55" wide and the entire cluster is 6.4" wide, 4.8" high and 4.7" deep. It displays nicely without the need for a display stand.

Be sure to check out the attached 360 degree video to really see how impressive this piece is.
SPECIES
Brasila aff. Subcornuta
LOCATION
Bearreraig, Isle of Skye, Scotland
SIZE
Cluster 6.4" wide, Largest Ammonite 2.55"