Double Drotops Trilobite Specimen - 5.7" Long Each!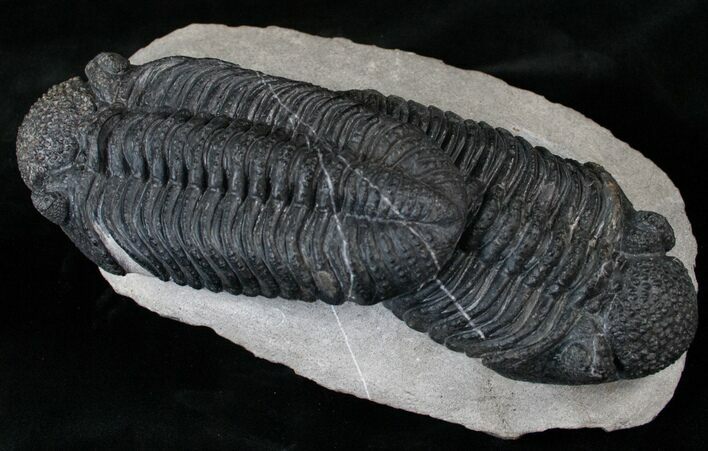 This is a spectacular double specimen of the gigantic phacopid trilobite Drotops megalomanicus. There are two 5.7" long specimens preserved one on top of another. Both specimens have great shell detail including their distinctive multi-faceted eyes and are well prepared. The natural calcite seams running through each specimen adds additional character to this piece.
There's a few small areas of shell restoration but it's pretty minimal and a bit some shell weathering to the pleural field on the side of the bottom trilobite.
A photo of the Drotops quarry at Issoumour, Morocco. The quarry following the horizon where this trilobites are found extends several kilometers around the mountain.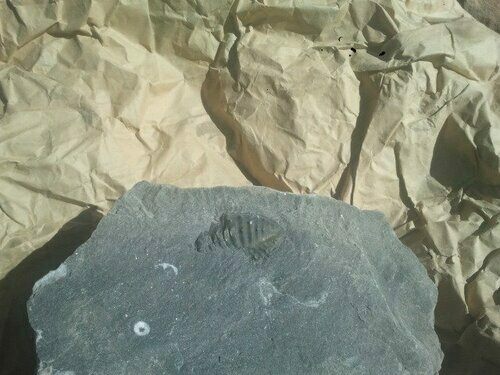 How a Drotops might be found in the field, with part of the tail exposed in the broken rock. It would then be prepared using airscribes and air abrasives a process that would likely take 20+ hours for a good specimen..
SPECIES
Drotops megalomanicus
AGE
Middle Devonian

LOCATION
Issoumour, Morocco
FORMATION
Bou Dib Formation
SIZE
Both Trilobites 5.7" Long