Fossil Goniatite & Orthoceras Sculpture - 7 1/2" (Repaired)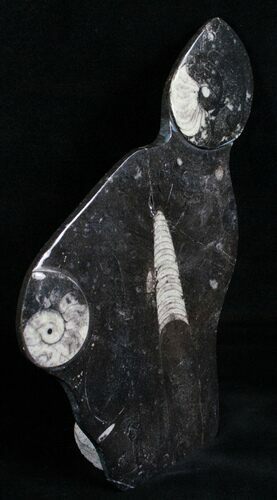 This is a free-standing sculpture created with 400 million year old, polished fossils from the Atlas Mountains of Morocco. An Orthoceras, a type of straight cephalopod and two Goniatite fossils (a type of ammonite) have been positioned on a sculpted piece of rock containing many other fossils. While these fossils have been repositioned they come from the same locality. The display is approximately 7 1/2 inches tall and stands on it's own.

Note: This piece was broken during shipping to me from Morocco. I glued the two pieces together but their is a visible crack running through the top right hand corner. This is why it's being sold at discounted price.
SPECIES
Goniatite sp. & Orthoceras regulares
LOCATION
Atlas Mountains, Morocco