Gorgeous 6.2" Polished Ammonite Fossil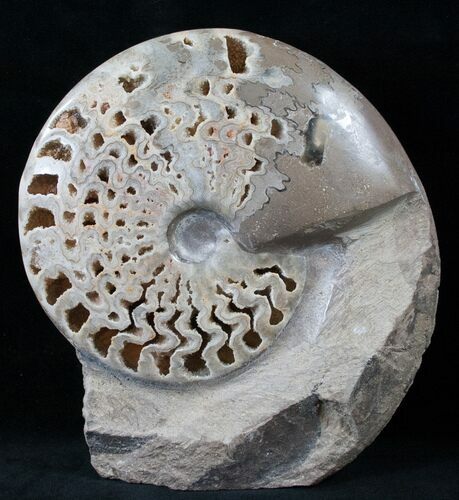 This is a beautiful, polished ammonite specimen collected near Khenifra, Morocco. ItThe inner chambers filled with crystals have been exposed by the polishing. One cool aspect of this piece is the rock still attached to the ammonite fossil has been sculpted to create a natural base for the ammonite to display on. The ammonite itself is 6.2" wide and the entire piece is 7" tall.
This is clearly a different genus of ammonite than nearly all of the others from the location which are much thicker and have far few chambers, but I've yet to be able to identify it.
Ammonites
were predatory mollusks that resembled a squid with a shell. These cephalopods had eyes, tentacles, and spiral shells. They are more closely related to a living octopus, though the shells resemble that of a nautilus. True ammonites appeared in the fossil record about 240 million years ago. The last lineages disappeared 65 million years ago at the end of the Cretaceous.
AGE
Cretaceous

LOCATION
Sidi yahya osaad, Khenifra, Morocco
SIZE
Ammonite 6.2" wide, Entire piece 7" Tall